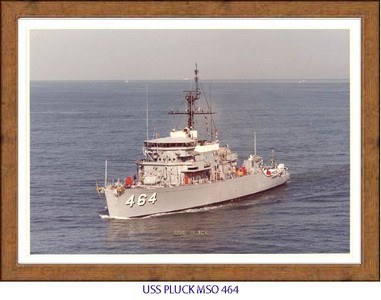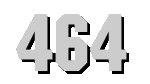 U.S.S. PLUCK
(MSO-464)

SOME BIGGER - NONE BETTER
Click to view crew list
USS PLUCK (MSO-464) - an Aggressive-class minesweeper
In Commission 1954 to 1990
MSO-464 Deployments - Major Events
Add a MSO-464 Shellback Initiation
Add a MSO-464 Deployment - Major Event
Month
Year
to
Month
Year
Deployment / Event
MAR
1952
-
Keel Date: 31 MAR 1952
FEB
1954
-
Launch Date: 6 FEB 1954
AUG
1954
-
Commissioned: 11 AUG 1954
AUG
1961
-
MAR
1962
West Pac
APR
1966
-
MAR
1967
West Pac-Viet Nam
DEC
1968
-
SEP
1969
West Pac-Viet Nam
JAN
1969
-
SEP
1969
West Pac
MAR
1971
-
SEP
1971
West Pac-Viet Nam
MAR
1971
-
SEP
1971
West Pac-Viet Nam
NOV
1990
-
Decommissioned: 29 NOV 1990
MSO-464 General Specifications
Complement: 65 Officers and Enlisted
Displacement: 630 tons
Length: 172 feet
Beam: 36 feet
Draft: 10 feet
Flank Speed: 15 knots
USS PLUCK (MSO-464)
The second Pluck (MSO-464) a minesweeper was laid down 31 March 1952 by Wilmington Boat Works Inc. Wilmington Calif.; launched 6 February 1954. sponsored by Mrs. Robert J. Eaton and commissioned 11 August 1954 Lt. Willis C. McClelland in command.
Following shakedown Pluck reported for duty to Commander Mine Forces Pacific. She deployed to WestPac in January 1956 and returned in June to Long Beach Calif. for overhaul. During January and February 1957 she assisted survey operations in Long Beach Harbor.
Assigned to WestPac 2 June 1958 Pluck operated off Taiwan in August and September during the Quemoy crisis Deployed to WestPac 31 August 1960 she delivered four tons of textbooks to Batangas Philippines in January 1961 as part of operation "Handclasp". On her next assignment to WestPac 2 July 1962 Pluck made a good will tour of Mindanao and Panay Islands Philippines in September before returning to Long Beach Calif. Upon completion d overhaul she rejoined her sister ships at Long Beach 1 October 1963.
After type training in Hawaiian waters she deployed to WESTPAC 28 September 1964. During February and March 1965 she monitored coastal shipping off South Vietnam. On her next deployment to WestPac 16 May 1966 she completed four more coastal patrols beginning July 1966 and ending 2 February 1967. In 1968 she underwent major over haul from 29 January to 1 July and in November participated in an evaluation of the Red Eye antiaircraft missile.
Into 1970 Pluck remained active with the Pacific Fleet.


[Note: The above USS PLUCK (MSO-464) history may or may not contain text provided by crew members of the USS PLUCK (MSO-464) or by other non-crew members and text from the Dictionary of American Naval Fighting Ships]