For RATING SHIRTS - Click on your Rating Abbreviation below: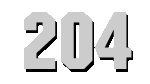 U.S.S. THRUSH
(MSC-204)


Click to view crew list
USS THRUSH (MSC-204) - a Redwing-class minesweeper
In Commission 1955 to 1975
MSC-204 Deployments - Major Events
MSC-204 General Specifications
Class: Redwing-class minesweeper
Complement: 39 Officers and Enlisted
Displacement: 320 tons
Length: 144 feet
Beam: 28 feet
Draft: 9 feet
Final Disposition: Disposed
USS THRUSH (MSC-204)
The second Thrush (MSC-204) was laid down as AMS-204 on 7 May 1954 at Tampa, Fla., by the Tampa Marine Co.; launched on 5 January 1955; sponsored by Mrs. Edgar S. Russell; redesignated MSC-204 on 7 February 1955; and commissioned on 8 November 1955, Lt. (jg.) Richard Anthony Dallamura in command.


Late in November 1955, the new coastal minesweeper reported at Charleston for duty with Mine Division 42 and then conducted shakedown in Chesapeake Bay. In 1956, she moved to Yorktown, her new homeport; carried out assignments for the Mine Warfare School; and in August proceeded to Norfolk, her base for Operation "Hideaway." Early in 1957, she was assigned to the 6th Naval District and homeported at Key West. There she tested and evaluated new mine warfare equipment for the Mine Warfare Evaluation Detachment.


In 1958 and 1959, she participated in mine warfare exercises out of Charleston and Norfolk, including NATO exercises. In August 1959, she again shifted home ports, this time to Coco Solo at the Atlantic entrance of the Panama Canal. She operated from that base until 1962 when she was ordered to Miami. There, she trained naval reserve crews for nine years. In 1971, she moved to Port Everglades, whence she continued her assignment with the Naval Reserve Force. At times, she served as a training ship for three reserve crews: two underway crews and an in-port maintenance unit-all elements of the Selected Reserve System. Conducting reserve cruises, visiting east coast ports, and ranging as far as the Bahamas for minesweeping exercises, she continued training Florida Reserves for the Mine Warfare Service, Atlantic Fleet, into 1975. In 1976, she was transferred to the Naval Oceanographic Office.


[Note: The above USS THRUSH (MSC-204) history may, or may not, contain text provided by crew members of the USS THRUSH (MSC-204), or by other non-crew members, and text from the Dictionary of American Naval Fighting Ships]