For RATING SHIRTS - Click on your Rating Abbreviation below:
Click on your Rating abbreviation above: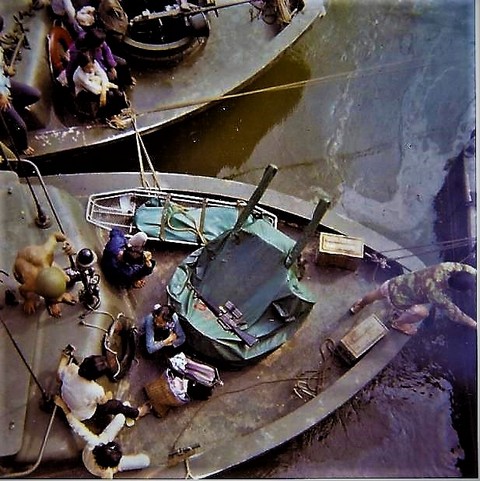 U.S.S. GARRETT COUNTY
(LST-786)

RINGLERS CIRCUS
Click to view crew list
USS GARRETT COUNTY (LST-786 ) - a LST-542-class tank landing ship
In Commission 1944 to 1946
LST-786 Deployments - Major Events
Add a LST-786 Shellback Initiation
Add a LST-786 Deployment - Major Event
Month
Year
to
Month
Year
Deployment / Event
MAY
1944
-
Keel Date: 21 MAY 1944
at Dravo Corporation Neville Island Pittsburgh PA
JUL
1944
-
Launch Date: 22 JUL 1944
AUG
1944
-
Commissioned: 28 AUG 1944
JAN
1966
-
JAN
1970
West Pac-Viet Nam
JUL
1966
-
Shellback Initiation - 14 JUL 1966 - Pacific Ocean
OCT
1966
-
APR
1971
West Pac-Viet Nam
OCT
1966
-
OCT
1966
Recommisioning
JAN
1968
-
FEB
1968
Tet Offensive rescue mission
JAN
1968
-
JAN
1970
West Pac
MAY
1969
-
JUL
1971
West Pac-Viet Nam
JUL
1969
-
JUL
1970
West Pac-Viet Nam
APR
1971
-
Decommissioned: 23 APR 1971
LST-786 General Specifications
Class: LST-542-class tank landing ship
Displacement: 1625 tons
Length: 328 feet
Beam: 50 feet
Draft: Loaded - 8' FWD - 14' AFT
Flank Speed: 12 knots
USS GARRETT COUNTY (LST-786)
LST-786 was laid down by Dravo Corp. Neville Island Pittsburgh Pa. 21 May 1944 launched 22 July; sponsored by Mrs. E. B. Keckler; and commissioned 28 August 1944 Lt. Eli T. Ringler USCG in command.

After shakedown off Florida LST-786 departed Mobile Ala. 30 September and sailed for the Pacific. She loaded cargo and men of the 112th Navy Construction Battalion at Pearl Harbor before arriving Eniwetok 28 December. During January 1946 the landing ship made another cruise to Pearl Harbor for supplies returning to the Marshall Islands 21 February.

With Iwo Jima now in American hands LST-786 transported a group of Seabees to that tiny volcano island in late March. While at Iwo she embarked 114 prisoners of war for transportation to Guam arriving there 20 April. Eight days later she sailed with another detachment of Seabees bound for that last Japanese barrier -- Okinawa. Arriving 8 May in the area off "Green Beach " LST-786 unloaded her cargo under the constant threat from enemy air raids and sailed 20 May for the Philippines.

For the rest of the war she shuttled troops and equipment among the Philippines and to Okinawa further strengthening the path to Japan. On 4 August her convoy was attacked by an enemy submarine which was sunk by Earle V. Johnson (DE-703) after a 3-hour duel.

After V-J Day LST-786 operated in the Far East. where she provided transportation services for the occupation troops in Japan Korea and Okinawa. The landing ship departed Sasebo 8 December and arrived San Francisco 14 January 1946. LST-786 decommissioned at Astoria Oreg. 9 July 1946 and was assigned to the Pacific Reserve Fleet.

She was assigned the name Garrett County 1 July 1955. As the American role in the Far East expanded the need for landing craft increased to handle the large buildup of U. S. forces in Vietnam. Garrett County recommissioned 15 October 1966 for service in the Pacific Fleet. Early in 1967 she sailed for the Far East and for the next months operated off Vietnam supporting the struggle to thwart Communist aggression in Southeast Asia.

LST-786 received one battle star for World War II service.


[Note: The above USS GARRETT COUNTY (LST-786) history may or may not contain text provided by crew members of the USS GARRETT COUNTY (LST-786) or by other non-crew members and text from the Dictionary of American Naval Fighting Ships]