For US NAVY RATING SHIRTS - Click on your Rating Abbreviation below:
Click on your Rating abbreviation above: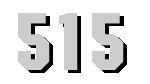 U.S.S. CADDO PARISH
(LST-515)

NO BEACH TO HARD TO REACH
Click to view crew list
USS CADDO PARISH (LST-515 ) - a LST-491-class tank landing ship
In Commission 1944 to 1956
LST-515 Deployments - Major Events
Add a LST-515 Shellback Initiation
Add a LST-515 Deployment - Major Event
Month
Year
to
Month
Year
Deployment / Event
JAN
1943
-
APR
1944
North Atlantic-Med-Indian Ocean
SEP
1943
-
Keel Date: 3 SEP 1943
at Chicago Bridge & Iron Company
NOV
1943
-
APR
1944
Exercise Tiger- Slampton Sands England (Pre-Normandy Invasion
DEC
1943
-
Launch Date: 31 DEC 1943
JAN
1944
-
Commissioned: 28 JAN 1944
JAN
1965
-
NOV
1965
Dominican Republic Conflict
JAN
1966
-
JAN
1968
West Pac-Viet Nam
FEB
1966
-
MAY
1966
West Pac-Viet Nam
JUN
1967
-
JUN
1968
West Pac-Viet Nam
NOV
1969
-
Decommissioned: 26 NOV 1969
LST-515 General Specifications
Class: LST-491-class tank landing ship
Complement: 9 Officers and 89-100 Enlisted
Displacement: 1625 tons
Length: 328 feet
Beam: 50 feet
Draft: Loaded - 8' FWD - 14' AFT
Final Disposition: Transferred to the Philippines 26 November 1969
USS CADDO PARISH (LST-515)
LST-515 was laid down on 3 September 1943 at Seneca, III., by the Chicago Bridge & Iron Co.; launched on 31 December 1943; sponsored by Miss Rebekah Brown; and commissioned on 28 January 1944.


During World War II, LST-515 was assigned to the European theater and participated in the invasion of Normandy in June 1944. Following the war, LST-515 performed occupation duty in the Far East until mid-November 1952. She also saw postwar service with the Service Force, U.S. Atlantc Fleet.


Upon her return to the United States, she was re-designated Caddo Parish (LST-515) on 1 July 1955 after a parish (county) in Louisiana. The ship was decommissioned on 20 October 1955 and recommissioned on 2 August 1963. The tank landing ship performed service in Vietnam until transferred to the Republic of the Philippines as grant aid on 26 November 1969. She served the Philippine Navy as Bataan (LT-85).


LST-515 received one battle star for World War II service; and nine battle stars, one Navy Unit Commendation and one Meritorious Unit Commendation for Vietnam service.


[Note: The above USS CADDO PARISH (LST-515) history may, or may not, contain text provided by crew members of the USS CADDO PARISH (LST-515), or by other non-crew members, and text from the Dictionary of American Naval Fighting Ships]