For US NAVY RATING SHIRTS - Click on your Rating Abbreviation below: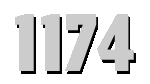 U.S.S. GRANT COUNTY
(LST-1174)

TERRE ET MARE VICIMUS
Click to view crew list
USS GRANT COUNTY (LST-1174 ) - a De Soto County-class tank landing ship
In Commission 1957 to 1973
LST-1174 Deployments - Major Events
Add a LST-1174 Shellback Initiation
Add a LST-1174 Deployment - Major Event
Month
Year
to
Month
Year
Deployment / Event
MAR
1956
-
Keel Date: 15 MAR 1956
at Avondale Marine Ways Avondale LA
OCT
1956
-
Launch Date: 12 OCT 1956
DEC
1957
-
Commissioned: 17 DEC 1957
DEC
1957
-
Shellback Initiation - 17 DEC 1957 - Atlantic Ocean
FEB
1959
-
SEP
1959
Mediterranean
APR
1961
-
OCT
1961
Mediterranean
OCT
1962
-
OCT
1962
Cuban Missle Blockade
SEP
1964
-
NOV
1964
OPERATION STEEL PIKE 1
OCT
1965
-
MAY
1966
Mediterranean
AUG
1967
-
APR
1968
Caribbean
AUG
1968
-
FEB
1969
Mediterranean
SEP
1971
-
NOV
1971
Mediterranean
JAN
1972
-
MAR
1972
Caribbean
JAN
1973
-
Decommissioned: 15 JAN 1973
LST-1174 General Specifications
Class: De Soto County-class tank landing ship
Named for: Grant County
Complement: 124 Officers and Enlisted
Displacement: 3560 tons
Length: 446 feet
Beam: 62 feet
Flank Speed: 17 knots
Final Disposition: Loaned to the Brazilian Navy 15 January 1973Sold to Brazil 1 February 1980
USS GRANT COUNTY (LST-1174)
Grant County (LST-1174) was laid down by Avondale Marine Ways Inc. Avondale La. 15 March 1956; launched 12 October 1956; sponsored by Mrs. John Martin Higgins; and commissioned 17 December 1957 Lt. Comdr. R. B. Nichols in command.

After shakedown Grant County performed amphibious exercises.along the Atlantic coast and in the Caribbean throughout 1958. From 1958 to 1962 the LST excelled in training and experimental amphibious operations in the Atlantic Caribbean and on two occasions the Mediterranean (1958 1961) .

Following operations with Marines at Camp Pendleton in October 1962 Grant County was dispatched to Florida for assignment during the Cuban missile crisis. Her constant training paid dividends for the show of strength displayed by the Navy averted an atomic catastrophe and once again left undisputed America's claim to superiority of the sea. When the crisis eased Grant County resumed her training and remained on alert in the event of another flare-up.

In May 1965 the Communist threat to the Western Hemisphere struck again this time in the Dominican Republic. President Johnson ordered Marines to the Caribbean island to protect American interests and help stabilize the government. When the situation showed signs of diminishing Grant County departed Little Creek Va. 1 June for the Caribbean. She embarked Marines and Seabees stationed in the Dominican Republic and returned them to the United States. On 3 October she sailed for another Mediterranean deployment and participated in amphibious exercises before returning home 31 March 1966.

During the next 4 months Grant County participated in intermittent amphibious exercises along the Atlantic Coast and in the Caribbean. During August she made two runs to the Dominican Republic to return troops and equipment to the United States. She continued shuttle runs along the East Coast until 1 December when she began a 3-month overhaul. In March 1967 she resumed training and readiness operations with amphibious forces and at present she ranges the seas from the Virginia Capes to the Caribbean while maintaining the efficiency and readiness of her crew and equipment.


[Note: The above USS GRANT COUNTY (LST-1174) history may or may not contain text provided by crew members of the USS GRANT COUNTY (LST-1174) or by other non-crew members and text from the Dictionary of American Naval Fighting Ships]