For RATING SHIRTS - Click on your Rating Abbreviation below: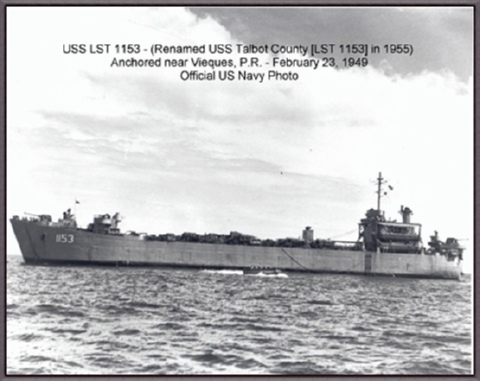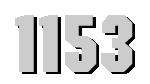 U.S.S. TALBOT COUNTY
(LST-1153)

SHES A LADY
Click to view crew list
USS TALBOT COUNTY (LST-1153 ) - a Talbot County-class tank landing ship
In Commission 1947 to 1970
LST-1153 Deployments - Major Events
Add a LST-1153 Shellback Initiation
Add a LST-1153 Deployment - Major Event
Month
Year
to
Month
Year
Deployment / Event
JUL
1945
-
Keel Date: 19 JUL 1945
at Boston Navy Yard MA
APR
1947
-
Launch Date: 24 APR 1947
SEP
1947
-
Commissioned: 3 SEP 1947
JAN
1961
-
JAN
1964
Caribbean
OCT
1962
-
NOV
1962
Cuban Missle Blockade
FEB
1965
-
Shellback Initiation - 7 FEB 1965 - Atlantic Ocean
FEB
1966
-
Shellback Initiation - 18 FEB 1966 - Pacific Ocean
JAN
1967
-
NOV
1968
Panama Canal
AUG
1967
-
JAN
1968
A MAJOR REFIT NORFORK SHIPBUILDING AND DRY DOCK CO. 1967 RADAR
JUN
1968
-
NOV
1968
Panama Canal
APR
1970
-
Decommissioned: 3 APR 1970
LST-1153 General Specifications
Class: Talbot County-class tank landing ship
Complement: 190 Officers and Enlisted
Displacement: 6000 tons
Length: 382 feet
Beam: 54 feet
Draft: 14 feet 5 in
Final Disposition: Sold for scrapping
USS TALBOT COUNTY (LST-1153)
LST-1153 was laid down on 19 July 1945 at Boston Mass. by the Boston Navy Yard launched on 24 April 1947 sponsored by Mrs. Lena Mickelson and commissioned on 3 September 1947.

LST-1153 reported to the Fleet Training Group at Norfolk to begin her shakedown cruise on 21 September. She returned to Boston on 24 October for a postshakedown yard period and put to sea again on 15 November. Eleven days later she arrived at her home port Little Creek Va. For the next nine years the tank landing ship operated along the east coast of the United States from New England to Florida and in the Caribbean. On 1 July 1956 LST-1153 was named Talbot County.

Talbot County deployed to the Mediterranean on 31 August 1959 using her bulk fuel tanks to carry more than 240 000 gallons of aviation gasoline to refuel the helicopters of the amphibious squadron attached to the 6th Fleet. After making port calls in France Italy Greece Malta Gibraltar Algeria and Morocco she returned to tie United States on 13 February 1958. The ship was deployed with the 6th Fleet again from April to August 1959 and from October 1960 to May 1961. The remainder of her time until 1970 was spent in operations along the Atlantic seaboard ranging from Key West Fla. to Nova Scotia and various ports in the Caribbean.

Talbot County was decommissioned at Orange Tex. on 3 April 1970 struck from the Navy list on 1 May 1973 and subsequently scrapped.


[Note: The above USS TALBOT COUNTY (LST-1153) history may or may not contain text provided by crew members of the USS TALBOT COUNTY (LST-1153) or by other non-crew members and text from the Dictionary of American Naval Fighting Ships]