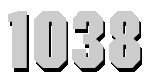 U.S.S. MCCLOY
(FF-1038)

ABOVE AND BEYOND
Click to view crew list
USS MCCLOY (FF-1038) - a Bronstein-class frigate
In Commission 1963 to 1990
FF-1038 Deployments - Major Events
Add a FF-1038 Shellback Initiation
Add a FF-1038 Deployment - Major Event
Month
Year
to
Month
Year
Deployment / Event
AUG
1958
-
Shellback Initiation - 1 AUG 1958 - Atlantic Ocean
SEP
1961
-
Keel Date: 15 SEP 1961
at Avondale Shipyard
JUN
1962
-
Launch Date: 9 JUN 1962
OCT
1963
-
Commissioned: 21 OCT 1963
FEB
1967
-
MAY
1967
Blue Nose - Arctic Circle
FEB
1967
-
MAY
1967
North Atlantic
FEB
1967
-
MAY
1967
Blue Nose - Arctic Circle
APR
1967
-
APR
1967
Blue Nose - Arctic Circle
JUL
1968
-
NOV
1968
UNITAS
AUG
1968
-
Shellback Initiation - 1 AUG 1968 - Atlantic Ocean
APR
1969
-
OCT
1969
Mediterranean
JUL
1972
-
NOV
1972
Antarctic Circle
JUN
1976
-
NOV
1976
Mediterranean
JUN
1977
-
DEC
1977
Mediterranean
OCT
1978
-
MAR
1979
Mediterranean
JUL
1980
-
SEP
1980
Guantanamo Bay
FEB
1981
-
JUL
1981
Mediterranean
MAR
1981
-
SEP
1981
Mediterranean
MAR
1981
-
SEP
1981
Mediterranean
MAY
1983
-
AUG
1983
North Atlantic
JAN
1984
-
MAY
1984
Blue Nose - Arctic Circle
SEP
1984
-
DEC
1984
Antarctic Circle
JUN
1985
-
OCT
1985
Grenada
MAY
1986
-
SEP
1986
Shellback Initiation - Atlantic Ocean
AUG
1987
-
DEC
1987
Guantanamo Bay
APR
1988
-
MAY
1988
North Atlantic
DEC
1990
-
Decommissioned: 14 DEC 1990
FF-1038 General Specifications
Class: Bronstein-class frigate
Named for: John C. McCloy
Complement: 16 Officers and 183 Enlisted
Displacement: 2650 tons
Length: 371.4 feet
Beam: 40.4 feet
Flank Speed: 26 knots
Final Disposition: Sold to Mexico November 12 1993
USS MCCLOY (FF-1038)
McCloy was laid down by the Avondale Shipyards, Inc., Westwego, La., 15 September 1961; launched 9 June 1962; sponsored by Mrs. Arthur Winstead; and commissioned 21 October 1963 at Charleston, S.C., Comdr. Thomas Sherman in command.


Following outfitting and shakedown McCloy, assigned to Escort Squadron 10, reported to her home port, Newport, R.I., in January 1964. In October, after further specialized training, she commenced training sonar technicians. Employed primarily as a schoolship throughout 1965, she also tested new ASW weapons systems for the Operational Test and Evaluation Force. During this period she enhanced her training and testing capabilities as well as her operational abilities by participating in joint United States‑Canadian exercises in the spring and fall and in ASW exercises at the end of the year.


In 1966 cruises saw her in the Bermuda area for NATO exercises (April); off the New England and Virginia coasts for convoy escort and ASW exercises (June, July, and August); and in the Caribbean for fleet tactical exercises (November‑December). From 16 January until 24 May 1967 she participated in Match Maker 11. This operation, which took McCloy from the Caribbean to northern Europe, was conducted jointly by American, Dutch, British, and Canadian ships. In what was called Cross Pollinization, McCloy men transferred to the Dutch destroyer Limburg (D‑814) and the British frigate Berwick (F‑115) while men of those ships came on board the American escort vessel.


McCloy spent the last half of 1967 and the first months of 1968 at Boston, undergoing overhaul. She got underway again in March and sailed south, the next month, for refresher training at Guantanamo Bay. Returning to Newport in June, she departed again 8 July for another extended cruise. On the 11th she arrived at San Juan where she joined naval units of the United States, Brazil, and Colombia for UNITAS IX. On the 15th, they commenced a clockwise circumnavigation of South America which first involved ships and planes of eight nations in exercises in the Atlantic, then around the Horn to the Pacific for more of the same, and finally through the Panama Canal back into the Caribbean before the end of the year. She continues her operations in the Atlantic into 1969.


[Note: The above USS MCCLOY (FF-1038) history may, or may not, contain text provided by crew members of the USS MCCLOY (FF-1038), or by other non-crew members, and text from the Dictionary of American Naval Fighting Ships]