Click on your Rating abbreviation above: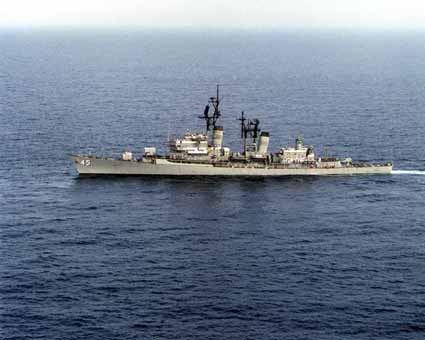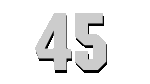 U.S.S. DEWEY
(DDG-45)

THE FIRST AND FINEST
Click to view crew list
The USS DEWEY (DDG-45), a Farragut-class guided missile destroyer, was commissioned on 7 DEC 1959. Orginally built as a Guided Missile Destroyer Leader (DLG-15) at the Bath Iron Works, USS DEWEY was commissioned with COMMANDER Elmo R. Zumwalt, Jr., the future chief of Naval Operations, in command. She joined the Atlantic Fleet, in 1960. Homeported successively at Norfolk, Va, Newport, R.I, Charleston, S.C. and Mayport, Florida, DEWEY deployed the the Northern Atlantic, Mediterranean, Far East and Caribbean, always living up to her motto, "The First and Finest". USS DEWEY served her country for 30 years, 8 months and 24 days, until decommissioned on 31 AUG 1990. The hulk of the DEWEY was scrapped in 1994.

The USS DEWEY (DDG-45) deployment history and significant events of her service career follow:
DDG-45 Deployments - Major Events
Add a DDG-45 Shellback Initiation
Add a DDG-45 Deployment - Major Event
Month
Year
to
Month
Year
Deployment / Event
AUG
1957
Keel Date: 10 AUG 1957
at Bath Iron Works Bath ME
NOV
1958
Launch Date: 30 NOV 1958
DEC
1959
Commissioned: 7 DEC 1959
AUG
1974
-
NOV
1974
North Atlantic
JAN
1977
-
AUG
1977
Mediterranean
OCT
1977
-
DEC
1977
North Atlantic
MAR
1978
-
OCT
1978
Mediterranean
FEB
1979
-
SEP
1979
UNITAS
JUL
1979
-
Shellback Initiation - 29 JUL 1979 - Pacific Ocean
JUL
1979
-
Shellback Initiation - 29 JUL 1979 - Pacific Ocean
NOV
1979
-
Shellback Initiation - 29 NOV 1979 - Pacific Ocean
JAN
1982
-
JUL
1982
Mediterranean
JUN
1983
-
DEC
1983
Standing Naval Force Atlantic (STANAVFORLANT)
MAR
1985
-
OCT
1985
Mediterranean
DEC
1986
-
DEC
1988
Mediterranean-Indian Ocean-Persian Gulf
SEP
1988
-
FEB
1989
Mediterranean-Indian Ocean
AUG
1990
Decommissioned: 31 AUG 1990
DDG-45 General Specifications
Class: Farragut-class guided missile destroyer
Named for: George Dewey
Complement: 21 Officers and 356 Enlisted
Displacement: 5800 tons
Length: 512.5 feet
Beam: 52 feet
Flank Speed: 36 Knots
Range: 4500Nautical Miles
Final Disposition:Disposed of sold by Defense Reutilization and Marketing Service (DRMS) for scrapping15 April 1994
USS DEWEY (DDG-45)
The second Dewey (DLG-14) was launched 30 November 1958 by Bath Iron Works Corp. Bath Maine; sponsored by Mrs. K. St. George United States Representative from New York State and commissioned 7 December 1959 Commander E. R. Zumwalt Jr. in command.
Training operations off New England the Virginia Capes and in the Caribbean through the first 6 months of 1960 prepared Dewey for her significant role with the Atlantic Fleet.


[Note: The above USS DEWEY (DDG-45) history may or may not contain text provided by crew members of the USS DEWEY (DDG-45) or by other non-crew members and text from the Dictionary of American Naval Fighting Ships]