For RATING SHIRTS - Click on your Rating Abbreviation below:
Click on your Rating abbreviation above: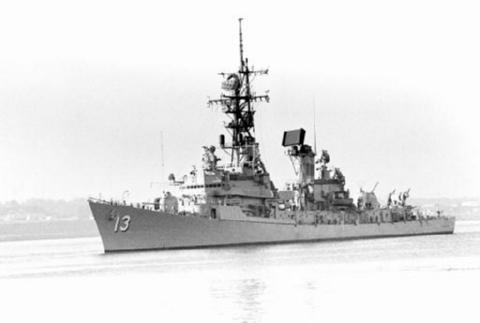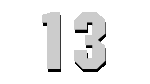 U.S.S. HOEL
(DDG-13)

THE WORLDS FINEST
Click to view crew list
The USS HOEL (DDG-13), a Charles F. Adams-class guided missile destroyer, was commissioned on 16 JUN 1962. USS HOEL was built by the Defoe Shipbuilding Co. of Bay City, MI. Defoe was the builder of three other Charles F. Adams DDGs. HOEL sailed from Boston after fit out to her homport of San Diego, Ca, arriving in September 1962. USS HOEL deployed numerous times to the Western Pacific over the next twenty seven years. Her early "West Pacs" had a eastern terminus in Vietnamese waters, providing shore bombardment and picket duty for the US aircraft carriers operating at Yankee Station. Her later "West Pacs" extended into the "IO" (Indian Ocean) as the US Navy presence grew after Iranian Hostage Crisis. HOEL was decommissioned just before Desert Shield/Desert Storm. USS HOEL served her country for 28 years, 3 months and 15 days, until decommissioned on 1 OCT 1990. HOEL's post service career was unusual. Purchased to become a "power barge", she was moved to Brazil in an attempt to provide "municipal" power to Manaus, Brazil. The enterprise was a failure and her hulk was last report anchored in the Amazon River near Manaus.

The USS HOEL (DDG-13) deployment history and significant events of her service career follow:
DDG-13 Deployments - Major Events
Add a DDG-13 Shellback Initiation
Add a DDG-13 Deployment - Major Event
Month
Year
to
Month
Year
Deployment / Event
AUG
1959
-
Keel Date: 3 AUG 1959
at Defoe Shipbuilding Company Bay City MI
AUG
1960
-
Launch Date: 4 AUG 1960
JUN
1962
-
Commissioned: 16 JUN 1962
JAN
1963
-
JAN
1966
West Pac-Viet Nam
OCT
1963
-
APR
1964
West Pac
MAR
1965
-
SEP
1965
West Pac-Viet Nam
SEP
1965
-
FEB
1966
Regular Overhaul
JAN
1966
-
JAN
1967
West Pac-Viet Nam
JUL
1966
-
FEB
1967
west pac viet nam
JUL
1966
-
FEB
1967
West Pac-Viet Nam
DEC
1967
-
JUN
1968
West Pac-Viet Nam
FEB
1968
-
MAR
1968
West Pac
AUG
1968
-
MAR
1969
Dry Dock
SEP
1968
-
JAN
1969
Regular Overhaul
JUL
1969
-
MAR
1970
West Pac-Viet Nam
SEP
1969
-
Shellback Initiation - 28 SEP 1969 - Pacific Ocean
JAN
1970
-
DEC
1971
West Pac
JUN
1970
-
AUG
1970
Midshipsman Cruise
NOV
1970
-
JUN
1971
West Pac-Viet Nam
DEC
1970
-
JAN
1971
New Years Eve 1970 Subic Bay
APR
1971
-
Shellback Initiation - 27 APR 1971 - Pacific Ocean
JUL
1971
-
DEC
1971
Regular Overhaul
OCT
1971
-
JUL
1972
West Pac-Viet Nam
JUL
1972
-
JAN
1973
West Pac-Viet Nam
JAN
1973
-
OCT
1974
Dependents Cruise
FEB
1974
-
AUG
1974
West Pac
NOV
1974
-
OCT
1975
Long Beach CA yard period including several months in dry dock
JAN
1975
-
JAN
1975
West Pac
SEP
1976
-
MAY
1977
West Pac
OCT
1976
-
Shellback Initiation - 13 OCT 1976 - Pacific Ocean
OCT
1978
-
APR
1979
West Pac-Indian Ocean-Persian Gulf
FEB
1979
-
Shellback Initiation - 21 FEB 1979 - Indian Ocean
FEB
1979
-
Shellback Initiation - 27 FEB 1979 - Indian Ocean
JUN
1979
-
JUL
1980
Dry Dock
APR
1981
-
NOV
1981
West Pac-Indian Ocean-Persian Gulf
APR
1981
-
NOV
1981
Mediterranean-Indian Ocean-Persian Gulf
JUN
1981
-
Shellback Initiation - 17 JUN 1981 - Pacific Ocean
JUN
1981
-
Shellback Initiation - 17 JUN 1981 - Indian Ocean
JUN
1982
-
JUN
1982
1982 Arleigh Burke Award-Most Improved Ship in the Pacific Fleet
OCT
1982
-
MAY
1983
Westpac/Southpac
JAN
1983
-
Shellback Initiation - 29 JAN 1983 - Pacific Ocean
JUL
1985
-
DEC
1985
West Pac-Indian Ocean
SEP
1987
-
FEB
1988
West Pac-Indian Ocean-Persian Gulf
OCT
1987
-
OCT
1987
Operation Nimble Archer
OCT
1987
-
Shellback Initiation - 4 OCT 1987 - Pacific Ocean
JAN
1988
-
Shellback Initiation - 5 JAN 1988 - Pacific Ocean
JAN
1988
-
JAN
1988
GOLDEN SHELLBACK Initiation 5 JAN 88
FEB
1989
-
AUG
1989
West Pac-Indian Ocean-Persian Gulf
OCT
1990
-
Decommissioned: 1 OCT 1990
DDG-13 General Specifications
Class: Charles F. Adams-class guided missle destroyer
Named for: William R. Hoel
Complement: 24 Officers and 330 Enlisted
Displacement: 3277 tons
Length: 437 feet
Beam: 47 feet
Flank Speed: 33 knots
Range: 4 500 nautical miles
Final Disposition:Sold to Charleston Shipbuilders Inc. for conversion to a power barge scrapped in Brazil.
USS HOEL (DDG-13)
The second Hoel (DDG-13) was launched 4 August 1960 by Defoe Shipbuilding Co., Bay City, Mich.; sponsored by Mrs. Harry H. Long, granddaughter of the namesake; commissioned 16 June 1962, Commander Allen W. Slifer, USN, in command.


After fitting out at Boston, Hoel got underway for her first homeport, San Diego, putting in at Norfolk; May-port and Fort Lauderdale, Fla.; Guantanamo Bay; Cartagena, Colombia; Canal Zone; and Acapuloo, Mexico, during the voyage. During the passage from Cartagena to the Canal Zone she came upon sailing yacht Stardrift becalmed and adrift enroute to Sidney, Australia, from London. Hoel towed the 36-foot craft 100 miles to safety in Panama.


Hoel arrived San Diego 11 September 1962 and spent the ensuing months completing the various inspections, tests, and trials by the Board of Inspection and Survey. When successful firing of ASROC and TARTAR missiles completed her qualification and acceptance trials, Hoel joined the ready 1st Fleet.


After a 3-week cruise to Esquimau, Canada, Hoel spent April and May of 1963 in Pearl Harbor conducting specialexercises. She then returned to waters off San Diego to participate in the Presidential Demonstration held for President Kennedy.


The months of July, August, and part of September were spent at Long Beach Naval Shipyard for the post-shakedown availability assigned each new ship approximately 1 year after commissioning. At this time improved fire-control radars were installed and tested by successful missile firings. Hoel departed Long Beach 17 October 1963 for duty in the Western Pacific to serve as the flagship of Commander Destroyer Division 12.


In ensuing years she alternated deployments in the Far East with operations off the West Coast. Her 1966 deployment to the Western Pacific began when she departed San Diego 28 July. On September she was on search and rescue patrol off Da Nang, Vietnam. On 8 December the guided missile destroyer became naval gunfire support ship in the Corps I area. She fired 2,100 rounds destroying at least 20 enemy structures and 2 trench networks; damaging 61 buildings, 3 bunkers, 8 trench networks, and 5 roads; and killing 24 Viet Cong while wounding 7. Hoel retired to Hong Kong 21 December but headed for Yankee Station the day after Christmas to screen Coral Sea (CVA-43). On this patrol she helped to rescue a pilot after his A.-A Sky Hawk had crashed.


Hoel returned to San Diego 3 February 1967 and operated on the West Coast through mid-year preparing for future action.


[Note: The above USS HOEL (DDG-13) history may, or may not, contain text provided by crew members of the USS HOEL (DDG-13), or by other non-crew members, and text from the Dictionary of American Naval Fighting Ships]