Click on your Rating abbreviation above: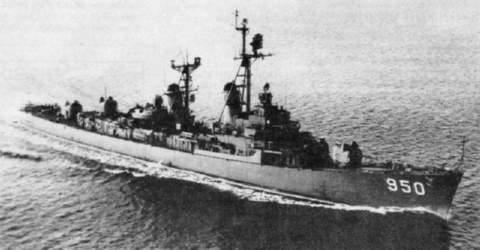 U.S.S. RICHARD S. EDWARDS
(DD-950)

OLD BUT STILL STEAMING
Click to view crew list
USS RICHARD S. EDWARDS (DD-950) - a Forrest Sherman class destroyer
In Commission 1959 to 1982
DD-950 Deployments - Major Events
Add a DD-950 Shellback Initiation
Add a DD-950 Deployment - Major Event
Month
Year
to
Month
Year
Deployment / Event
DEC
1956
Keel Date: 20 DEC 1956
at Puget Sound Bridge and Dredging Company
SEP
1957
Launch Date: 27 SEP 1957
FEB
1959
Commissioned: 5 FEB 1959
AUG
1964
-
JAN
1965
West Pac-Viet Nam
MAR
1967
-
APR
1968
West Pac
APR
1967
-
APR
1968
West Pac
FEB
1968
-
Shellback Initiation - 12 FEB 1968 - Pacific Ocean
FEB
1968
-
Shellback Initiation - 12 FEB 1968 - Atlantic Ocean
JAN
1970
-
JAN
1971
Recommisioning
APR
1972
-
OCT
1972
Operation Pocket Money - mining of Haiphong Harbor
MAR
1973
-
Shellback Initiation - 11 MAR 1973 - Pacific Ocean
JAN
1976
-
JAN
1977
West Pac
SEP
1977
Shellback Initiation - 10 SEP 1977 - Pacific Ocean
APR
1981
-
OCT
1981
West Pac
AUG
1981
Shellback Initiation - 30 AUG 1981 - Pacific Ocean
DEC
1982
Decommissioned: 18 DEC 1982
DD-950 General Specifications
Class: Forrest Sherman class destroyer
Named for: Richard Stanislaus Edwards
Complement: 15 Officers and 218 Enlisted
Displacement: 2800 tons
Length: 407 feet
Beam: 45 feet
Flank Speed: 32 Knots
Range: 4 500 nautical miles
Final Disposition:Sunk as a target off Kauai in Hawaii on 12 May 1997
USS RICHARD S. EDWARDS (DD-950)
Richard S. Edwards (DD-950) was laid down by the Puget Sound Bridge & Dredging Co. Seattle Wash. 29 December 1956; launched 24 September 1957; sponsored by Mrs. W. B. Franke and commissioned 5 February 1959 Comdr. Richard R. Law in command.
Richard S. Edwards shakedown took her to Valparaiso Chile then back to San Diego 13 May 1959. She then deployed to the western Pacific area where she operated with the fast carrier units of the 7th Fleet and as a member of the U.S. Taiwan Patrol Force. She returned to the west coast 13 May 1960 and operated there until deploying to the western Pacific again in February 1961 to operate with the fast carrier group in the South China Sea. She returned to San Diego 14 September 1961.
Richard S. Edwards commenced her third WestPac cruise 13 November 1962 for fast carrier operations throughout the western Pacific returning home in June 1963. She resumed local operations until commencing her fourth WestPac cruise from August 1964 to January 1965. During this deployment Edwards and Morton engaged North Vietnamese torpedo boats in the Tonkin Gulf on 18 September probably sinking several.
Upon returning from the Far East Edwards operated off the west coast until deploying to WestPac again 1 March 1966 to 26 August 1966. There she rendered naval gunfire support to forces ashore in Vietnam and plane-guarded for U.S. Navy carriers in the Tonkin Gulf. During 1967 she operated off the west coast of the United States until returning to WestPac in August. She arrived Da Nang South Vietnam 3 November 1967. She returned to San Diego 12 March 1968 and spent the balance of that year operating off the west coast.
In late January 1969 Richard S Edwards deployed to WestPac again to operate off Vietnam She returned to San Diego 13 August 1969 until being decommissioned at Long Beach Calif. 27 February 1970. She immediately entered Long Beach Naval Shipyard and underwent ASW modernization. By December she was participating in sea trials in anticipation of her recommissioning which occurred 15 January 1971. She embarked 4 March for Pearl Harbor Hawaii her new home port and continued operations in that vicinity until April 1972.
Receiving only 72 hours notice Richard S Edwards sailed from Pearl Harbor 10 April 1972 for the western Pacific and deployment off the Vietnamese coast. She remained in the area either on the gunline or cruising with the carriers as escort and plane guard until November. She re-entered Pearl Harbor 10 November 1972 and has remained there throughout 1973 and into 1974.
Richard S. Edwards has received six battle stars for service off Vietnam.


[Note: The above USS RICHARD S. EDWARDS (DD-950) history may or may not contain text provided by crew members of the USS RICHARD S. EDWARDS (DD-950) or by other non-crew members and text from the Dictionary of American Naval Fighting Ships]