For RATING SHIRTS - Click on your Rating Abbreviation below:
Click on your Rating abbreviation above: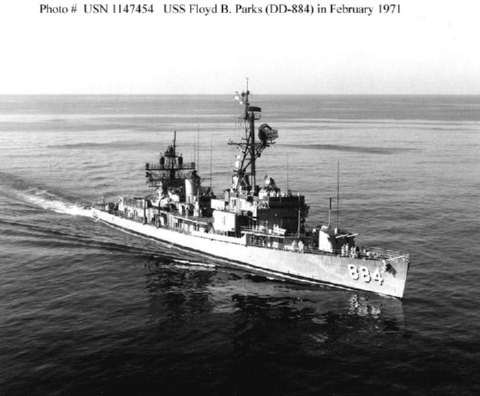 U.S.S. FLOYD B. PARKS
(DD-884)

ON THE WAY
Click to view crew list
USS FLOYD B. PARKS (DD-884) - a Gearing class destroyer
In Commission 1945 to 1973
DD-884 Deployments - Major Events
Add a DD-884 Shellback Initiation
Add a DD-884 Deployment - Major Event
Month
Year
to
Month
Year
Deployment / Event
OCT
1944
-
Keel Date: 30 OCT 1944
MAR
1945
-
Launch Date: 31 MAR 1945
JUL
1945
-
Commissioned: 31 JUL 1945
SEP
1955
-
APR
1956
West Pac
DEC
1955
-
Shellback Initiation - 16 DEC 1955 - Pacific Ocean
APR
1957
-
APR
1958
Operation Hardtack
FEB
1958
-
AUG
1958
USS Floyd B Parks Operation Hardtack
FEB
1963
-
FEB
1965
West Pac
JAN
1966
-
JAN
1969
West Pac
SEP
1966
-
MAR
1967
West Pac-Viet Nam
JUL
1968
-
Shellback Initiation - 4 JUL 1968 - Pacific Ocean
JUL
1968
-
Shellback Initiation - 9 JUL 1968 - Pacific Ocean
DEC
1969
-
AUG
1970
West Pac-Viet Nam
FEB
1971
-
AUG
1971
West Pac-Viet Nam
JUL
1971
-
JAN
1972
West Pac-Viet Nam
JAN
1972
-
SEP
1972
combat action ribbon 22 july 1972
JUN
1972
-
JAN
1973
West Pac
JUL
1973
-
Decommissioned: 2 JUL 1973
JUL
1978
-
Shellback Initiation - 9 JUL 1978 - Pacific Ocean
DD-884 General Specifications
Complement: 336 Officers and Enlisted
Displacement: 2616 tons
Length: 390.5 feet
Beam: 40.9 feet
Draft: 14.3 feet
Flank Speed: 36 Knots
Final Disposition: Sold for scrap 1 April 1974
USS FLOYD B. PARKS (DD-884)
Floyd B. Parks (DD-884) was launched 31 March 1945 by Consolidated Steel Corp. Orange Tex.; sponsored by Mrs. Floyd B. Parks widow of Major Parks; and commissioned 31 July 1945 Commander M. Slayton in command.
Floyd B. Parks arrived at San Diego her home port 16 November 1945 and sailed 20 November for her first tour of duty in the Far East patrolling the coast of China and operating in the Marianas until her return to San Diego 11 February 1947. In the period prior to the outbreak of war in Korea Floyd B. Parks twice more deployed to the Far East for duty with the 7th Fleet returning from her second such cruise 13 June 1950 just before the North Koreans crossed the 38th parallel. At once she prepared to return to duty as a standby at Pearl Harbor available should war spread returning to San Diego 20 August.
Floyd B. Parks sailed from San Diego 19 February 1961 to join in United Nations operations in Korea. On 16 March she joined the fast carrier task force screening them during air operations off the east coast as well as spending a total of 60 days in Wonsan Harbor on blockade and bombardment duty. She returned to San Diego 10 October 1951 and after west coast operations sailed for duty in the Far East again 31 May 1953 Along with duty similar to that of her first war cruise she patrolled in the South China Sea and the Taiwan Strait. She returned to San Diego 18 December 1952 and began a peace-time schedule of annual Far East cruises interspersed with west coast training operations and necessary maintenance.
During her 1955 Far Eastern cruise Floyd B. Parks took part in evacuation of the Tachen Islands and while in the Orient once more 11 March 1956 collided with Columbus (CA-74) losing 2 men and a 40-foot section of her bow. Skillful work by her crew saved their ship and brought her safely into Subic Bay for temporary repairs. Upon her return to Long Beach Naval Shipyard 14 May 1966 Floyd B. Parks damaged bow was replaced with that of the uncompleted destroyer Lansdale (DD-766) and after completion of repairs and installation of new equipment Floyd B. Parks returned to her west coast-Far East rotation through 1962.


[Note: The above USS FLOYD B. PARKS (DD-884) history may or may not contain text provided by crew members of the USS FLOYD B. PARKS (DD-884) or by other non-crew members and text from the Dictionary of American Naval Fighting Ships]