For RATING SHIRTS - Click on your Rating Abbreviation below:
Click on your Rating abbreviation above: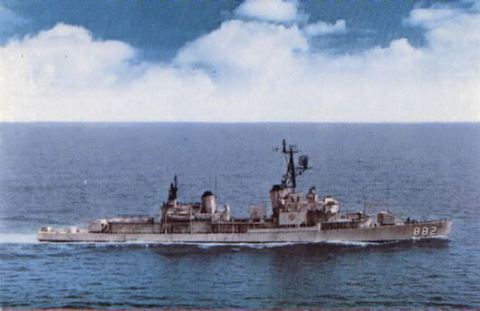 U.S.S. FURSE
(DD-882)

SENTINEL OF THE SEA
Click to view crew list
USS FURSE (DD-882) - a Gearing class destroyer
In Commission 1945 to 1972
DD-882 Deployments - Major Events
Add a DD-882 Shellback Initiation
Add a DD-882 Deployment - Major Event
Month
Year
to
Month
Year
Deployment / Event
SEP
1944
-
Keel Date: 23 SEP 1944
at Consolidated Steel Corporation Orange TX
MAR
1945
-
Launch Date: 9 MAR 1945
JUL
1945
-
Commissioned: 10 JUL 1945
OCT
1962
-
OCT
1962
Cuban Missle Blockade
AUG
1964
-
DEC
1964
Mediterranean
JAN
1966
-
JAN
1970
West Pac-Viet Nam
AUG
1966
-
APR
1970
West Pac-Viet Nam
DEC
1967
-
OCT
1969
West Pac-Viet Nam
JAN
1968
-
JAN
1968
West Pac
APR
1968
-
JAN
1969
West Pac-Viet Nam
APR
1968
-
DEC
1968
West Pac
SEP
1968
-
Shellback Initiation - 1 SEP 1968 - Atlantic Ocean
JAN
1969
-
JAN
1970
Mediterranean
JUL
1969
-
Shellback Initiation - 21 JUL 1969 - Indian Ocean
JUL
1969
-
Shellback Initiation - 7 JUL 1969 - Indian Ocean
JUL
1969
-
Shellback Initiation - 21 JUL 1969 - Pacific Ocean
NOV
1970
-
MAY
1971
Guantanamo Bay
JAN
1971
-
JUN
1971
Mediterranean
SEP
1971
-
OCT
1971
Mediterranean
AUG
1972
-
Decommissioned: 31 AUG 1972
AUG
1972
-
Shellback Initiation - 1 AUG 1972 - Atlantic Ocean
DD-882 General Specifications
Class: Gearing-class destroyer
Named for: John H. Furse
Complement: 336 Officers and Enlisted
Displacement: 3460 tons
Length: 390 feet 6 inches
Beam: 40 feet 10 inches
Flank Speed: 36 Knots
Range: 4 500 Nautical Miles
Final Disposition:Loaned to Spain 1972Sold 17 May 1978
USS FURSE (DD-882)
Furse (DD-882) was launched 9 March 1945 by Consolidated Steel Corp. Ltd. Orange Tex. sponsored by Miss Eugenia A. Furse sister of Lieutenant Furse; and commissioned 10 July 1945 Commander D. A. Harris in command. She was reclassified DDR-882 on 18 March 1949.
Furse sailed from Norfolk 7 November 1945 for occupation duty in the Far East calling at San Diego and Pearl Harbor en route to Tokyo Bay where she arrived 22 December. After acting as courier between Nagoya and Wakayama she conducted training operations out of Kobe then sailed back to Pearl Harbor to prepare for participation in Operation "Crossroads". In this operation atomic weapons tests in the Marshall Islands juring the summer of 1946 Furse acted as plane guard to carriers of JTF 1.
The destroyer returned to San Diego 12 August 1946 and until her transfer to the Atlantic Fleet in April 1949 operated on training along the west coast and completed another tour of duty in the Far East. She arrived at Newport R.I. 21 April 1949. On 10 September she sailed on the first of her tours of duty with the 6th Fleet in the Mediterranean which were annual aside from 1951 and 1959 through 1960. From January 1951 Furse was homeported at Norfolk Va.
Among the highlights of the destroyer's operations were visits to ports of northern Europe between September 1950 and December during which she represented the United States at the funeral of King Gustav V of Sweden. From 1952 onward she often served with the Operational Development Force perfecting techniques in antisubmarine warfare. A midshipman summer cruise in 1952 again took her to ports of northern Europe Marking her 1956 tour of duty in the Mediterranean was her participation in the evacuation of Americans from Israel and Egypt during the Suez Crisis and lengthy patrol duty in the eastern Mediterranean. The next year she made two tours of duty in the Mediterranean because of the tense political situation prevailing and in the summer of 1958 she sailed for NATO operations in northern waters, visiting Santander, Spain; Stavanger, Norway and Ghent, Belgium.
In the periods between her deployments Furse carried out the intensive training schedule of Destroyer Force Atlantic Fleet cruising the east coast and the Caribbean in operations with ships of all types and major fleet exercises.


[Note: The above USS FURSE (DD-882) history may or may not contain text provided by crew members of the USS FURSE (DD-882) or by other non-crew members and text from the Dictionary of American Naval Fighting Ships]