For RATING SHIRTS - Click on your Rating Abbreviation below:
Click on your Rating abbreviation above: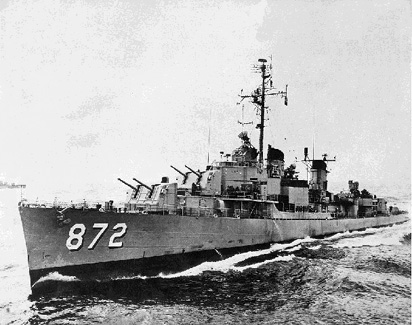 U.S.S. FORREST ROYAL
(DD-872)

VINDI
Click to view crew list
USS FORREST ROYAL (DD-872) - a Gearing-class destroyer
In Commission 1946 to 1971
DD-872 Deployments - Major Events
Add a DD-872 Shellback Initiation
Add a DD-872 Deployment - Major Event
Month
Year
to
Month
Year
Deployment / Event
JUN
1945
-
Keel Date: 8 JUN 1945
JAN
1946
-
Launch Date: 17 JAN 1946
JUN
1946
-
Commissioned: 29 JUN 1946
OCT
1950
-
AUG
1951
Inchon Landing
OCT
1950
-
JUN
1951
Korean War Chinnampo Taedong River demolition after evacuation
JUN
1952
-
FEB
1956
Circumnavigation
MAR
1953
-
MAR
1954
Mediterranean-Indian Ocean-Persian Gulf
AUG
1953
-
FEB
1954
Circumnavigation
MAR
1954
-
MAR
1955
World Cruise
AUG
1954
-
FEB
1955
Mediterranean-Indian Ocean-Persian Gulf
AUG
1954
-
MAR
1955
Circumnavigation
DEC
1956
-
Shellback Initiation - 20 DEC 1956 - Atlantic Ocean
DEC
1956
-
Shellback Initiation - 21 DEC 1956 - Atlantic Ocean
JAN
1957
-
DEC
1960
Mediterranean
SEP
1958
-
OCT
1958
Subic Bay
OCT
1958
-
Shellback Initiation - 18 OCT 1958 - Indian Ocean
JUN
1959
-
AUG
1959
Great Lakes
NOV
1959
-
NOV
1959
South America
MAR
1960
-
OCT
1960
Mediterranean
AUG
1960
-
SEP
1960
Suez/Red Sea/Persian Gulf
OCT
1962
-
OCT
1962
Cuban Missle Blockade
AUG
1963
-
DEC
1963
Med cruise
AUG
1963
-
DEC
1963
Mediterranean
JUN
1964
-
JUL
1964
North Atlantic-Med-Indian Ocean
OCT
1965
-
MAR
1966
Mediterranean
OCT
1965
-
MAR
1966
Mediterranean
FEB
1967
-
SEP
1967
West Pac-Viet Nam
FEB
1967
-
JUN
1968
West Pac-Viet Nam
NOV
1969
-
Shellback Initiation - 21 NOV 1969 - Atlantic Ocean
NOV
1969
-
Shellback Initiation - 15 NOV 1969 - Pacific Ocean
NOV
1969
-
APR
1970
Indian Ocean
NOV
1969
-
Shellback Initiation - 29 NOV 1969 - Atlantic Ocean
MAR
1971
-
Decommissioned: 27 MAR 1971
DD-872 General Specifications
Complement: 336 Officers and Enlisted
Displacement: 3460 tons
Length: 390 feet 6 inches
Beam: 40 feet 10 inches
Draft: 14 feet 4 in
Flank Speed: 36 Knots
Final Disposition: Sold to the Turkish Navy for 153000 in 1971 Scrapped 19
USS FORREST ROYAL (DD-872)
Forrest Royal (DD-872) was launched 17 January 1946 by Bethlehem Steel Co. Staten Island N.Y. sponsored by Miss Katharine K. Royal daughter of Admiral Royal and commissioned 29 June 1946 Commander J. M. Clute in command.
Forrest Royal's operations in the period prior to the Korean War illustrated the varied capability of the modern destroyer and the wide range of missions which such ships are assigned. She conducted special tests for the Bureau of Ships in the Caribbean served as plane guard and escort for carriers took part in the development of antisubmarine warfare and fired in shore bombardment exercises. Usually based at Pensacola she visited many ports in the Caribbean and Gulf of Mexico.
On 26 September 1950 Forrest Royal sailed from Guantanamo Bay for duty in the Korean War arriving at Sasebo 27 October. Her first assignment was as flagship for the minesweeping at Chinnampo a port essential to supply operations for the 8th Army. The destroyer's other activities included shore bombardment blockade and escort all around the Korean coast and extensive operations with carrier task forces conducting air strikes. She sailed for home 6 June 1951 returning to Norfolk 2 July.
Forrest Royal's next deployment between 26 August 1952 and 29 January 1953 was for a combination of NATO exercises off the coast of Norway visits to principal ports in northern Europe 2 months with the 6th Fleet in the Mediterranean and antisubmarine exercises with British ships off Northern Ireland. Through the next year and a half the destroyer sailed out of Newport R.I. for exercises along the Atlantic coast and in the Caribbean often serving with carriers out of Pensacola Fla.
During a cruise round the world between 2 August 1954 and 14 March 1955 Forrest Royal sailed westward to serve with the 7th Fleet in Japanese and Philippine waters thence onward to the Indian Ocean and the Suez Canal to join the 6th Fleet in the Mediterranean returning across the Atlantic to Newport. She made her next visit to the Mediterranean between 14 September 1956 and 3 April 1957 and during the Suez Crisis patrolled along the Egyptian and Levant coasts. Assigned to service in the Persian Gulf Red Sea and Gulf of Suez Forrest Royal made the long voyage around the African continent for this duty since the Suez Canal was still blocked.
Forrest Royal took part in a midshipman cruise to South America in the summer of 1957 as well as the International Naval Review in Hampton Roads on 12 June. NATO operations took her to European waters once more that fall and on 11 July 1958 she sailed from Newport for Morehead City N.C. where amphibious ships of her force embarked marines for landing exercises at Puerto Rico. This task force cleared San Juan 1 August to land the marines at Beirut Lebanon 20 to 28 August reinforcing the troops earlier landed in the Navy's immediate response to the outbreak of Middle Eastern trouble. Forrest Royal sailed on through the Suez Canal to bring her additional strength to the 7th Fleet as it intensified its activities in the Taiwan Straits in response to renewed Communist shelling of Quemoy and Matsu through September. Her homeward bound passage was by way of Capetown South Africa and she returned to Newport 18 November.
A highlight of Forrest Royal's operating schedule in 1959 was her participation in Operation "Inland Sea " the movement of a major naval task force into the Great Lakes in connection with the ceremonial opening of the St. Lawrence Seaway. She joined in the naval review on Lake St. Louis 26 June taken by President Dwight D. Eisenhower and Queen Elizabeth II of Great Britain and called at United States and Canadian ports to greet thousands of visitors. In March 1960 she sailed once more to the Mediterranean to serve with the 6th Fleet and added a brief tour with the Middle East force prior to her return to the States in October. She operated out of Newport for the remainder of the year.
Forrest Royal received four battle stars for Korean War service.


[Note: The above USS FORREST ROYAL (DD-872) history may or may not contain text provided by crew members of the USS FORREST ROYAL (DD-872) or by other non-crew members and text from the Dictionary of American Naval Fighting Ships]