For RATING SHIRTS - Click on your Rating Abbreviation below:
Click on your Rating abbreviation above: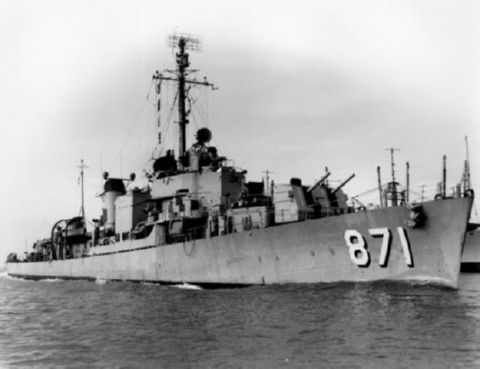 U.S.S. DAMATO
(DD-871)

LET THE ENEMY BEWARE
Click to view crew list
USS DAMATO (DD-871) - a Gearing-class destroyer
In Commission 1946 to 1980
DD-871 Deployments - Major Events
Add a DD-871 Shellback Initiation
Add a DD-871 Deployment - Major Event
Month
Year
to
Month
Year
Deployment / Event
MAY
1945
-
Keel Date: 10 MAY 1945
NOV
1945
-
Launch Date: 21 NOV 1945
APR
1946
-
Commissioned: 27 APR 1946
SEP
1952
-
DEC
1952
Blue Nose - Arctic Circle
JAN
1957
-
JAN
1957
Mediterranean-Indian Ocean
JUN
1957
-
Shellback Initiation - 18 JUN 1957 - Atlantic Ocean
JUN
1957
-
Shellback Initiation - 18 JUN 1957 - Atlantic Ocean
JAN
1961
-
Shellback Initiation - 30 JAN 1961 - Atlantic Ocean
JAN
1961
-
FEB
1961
Pursuit of hijacked Portuguese Liner Santa Maria 1-23-1961 2-4-1
JUN
1961
-
JUN
1961
initial voyage thru the St Lawrence river lock system
OCT
1962
-
OCT
1962
Cuban Missle Blockade
JUN
1964
-
AUG
1964
North Atlantic
JUN
1966
-
DEC
1966
Panama Canal
DEC
1966
-
FEB
1968
recieved two hits from shore batteries
JUN
1967
-
JAN
1968
West Pac-Viet Nam
JUL
1967
-
JAN
1968
West Pac
AUG
1968
-
Shellback Initiation - 7 AUG 1968 - Pacific Ocean
JAN
1969
-
JAN
1969
UNITAS
MAY
1969
-
NOV
1969
Mediterranean
JUL
1970
-
AUG
1972
West Pac-Viet Nam
FEB
1971
-
AUG
1971
Mediterranean
SEP
1971
-
NOV
1971
Blue Nose - Arctic Circle
SEP
1980
-
Decommissioned: 30 SEP 1980
DD-871 General Specifications
Class: Gearing-class destroyer
Named for: Anthony P. Damato
Displacement: 2616 tons
Length: 390.5 feet
Beam: 40.9 feet
Draft: 14.3 feet
Range: 4 500 Nautical Miles
Final Disposition: Scrapped 1994
USS DAMATO (DD-871)
Damato (DD-871) was launched 21 November 1946 by Bethlehem Steel Co. Staten Island N.Y.; sponsored by Mrs. A. P. Damato and commissioned 27 April 1946 Commander I. S. Presler in command. She was reclassified DDE-871 on 4 March 1951.
From her home port at Newport R.I. and after December 1947 from Norfolk Damato cruised the Atlantic from Cuba to Newfoundland in training and exercises. In the summer of 1949 she carried midshipmen on a training cruise to France and England and that fall joined in experimental cold-weather operations in Arctic waters.
From September to November 1950 Damato had her first tour of duty with the 6th Fleet in the Mediterranean and during the next year joined in hunter-killer operations in the South Atlantic. She returned to the Mediterranean in the fall of 1951 the summers of 1952 1953 and 1954. In both 1952 and 1953 she joined in autumn North Atlantic Treaty Organization exercises in the North Atlantic and during the summer of 1955 joined a Midshipman Training Cruise to Norway and Sweden.
Between October and December 1956 she served with the 6th Fleet in the Mediterranean and on 12 June 1957 was in Hampton Roads for the International Naval Review. That summer she cruised to Brazil with midshipmen on board for training then sailed for the Mediterranean in March 1958. She patrolled off the Levant then passed through the Suez Canal to join the Middle East Force in the Persian Gulf returning to Norfolk for local operations in September. During 1959 she served with TF "Alfa " concentrating on the development of improved antisubmarine warfare techniques. She visited Quebec Canada in July and in August sailed north again to pass through the St. Lawrence Seaway dedicated a month previously. She called at Montreal at Rochester N.Y. and arrived at Toronto for the Canadian National Exposition joining the review of NATO naval forces taken by Admiral of the Fleet the Earl Mountbatten of Burma Britain's senior military officer. Returning home she called at Ogdensburg N.Y. and resumed east coast and Caribbean operations through 1962.


[Note: The above USS DAMATO (DD-871) history may or may not contain text provided by crew members of the USS DAMATO (DD-871) or by other non-crew members and text from the Dictionary of American Naval Fighting Ships]