Click on your Rating abbreviation above: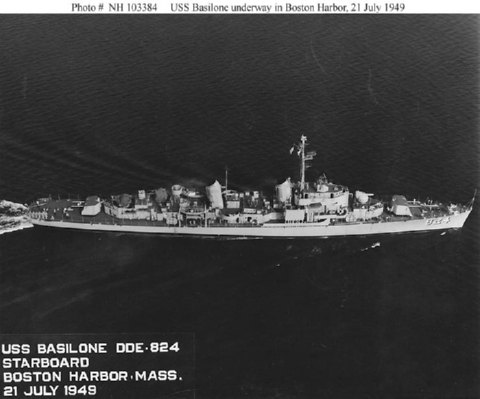 U.S.S. BASILONE
(DD-824)

TRIUMPHUS SUPRA INVISUM
Click to view crew list
USS BASILONE (DD-824) - a Gearing-class destroyer
In Commission 1949 to 1977
DD-824 Deployments - Major Events
Add a DD-824 Shellback Initiation
Add a DD-824 Deployment - Major Event
Month
Year
to
Month
Year
Deployment / Event
JUL
1945
Keel Date: 7 JUL 1945
at Consolidated Steel Corporation Orange TX
DEC
1945
Launch Date: 21 DEC 1945
JUL
1949
Commissioned: 26 JUL 1949
JUN
1957
-
Shellback Initiation - 26 JUN 1957 - Atlantic Ocean
MAR
1962
-
JUN
1962
Eastlant Cruise
OCT
1962
-
OCT
1962
Cuban Missle Blockade
JAN
1963
-
APR
1965
Mediterranean
JUL
1965
-
Shellback Initiation - 20 JUL 1965 - Pacific Ocean
NOV
1969
-
MAY
1970
Mediterranean
APR
1972
-
DEC
1972
Circumnavigation
JUL
1972
-
AUG
1972
West Pac-Viet Nam
JUL
1972
-
AUG
1972
West Pac-Viet Nam
OCT
1972
-
Shellback Initiation - 31 OCT 1972 - Indian Ocean
NOV
1977
Decommissioned: 1 NOV 1977
DD-824 General Specifications
Class: Gearing-class destroyer
Named for: John Basilone
Complement: 345 Officers and Enlisted
Displacement: 2425 tons
Length: 390 feet 6 inches
Beam: 40 feet 10 inches
Flank Speed: 35 knots
Range: 4 500 Nautical Miles
Final Disposition:Sunk in exercise 9 April 1982
USS BASILONE (DD-824)
Basilone (DD-824) was launched 21 December 1946 by Consolidated Steel Corp. Ltd. Orange Tex.; sponsored by Sergeant Lena Mae Basilone USMCWR widow of Sergeant Basilone. The vessel was deactivated for a period of time and was then moved from Orange Tex. to the Quincy Yard of Bethlehem Steel Co. Quincy Mass. for conversion to an escort destroyer (reclassified DDE-824 28 January 1948). Conversion completed Basilone (DDE-824) was commissioned 26 July 1949 Commander M. E. Dennett in command.
Assigned to Destroyer Force Atlantic Basilone has operated out of Norfolk on local operations and competitive exercises; with the Operational Development Force Surface Anti-Submarine Development Detachment and as a school ship for the Fleet Sonar School at Key West Fla. and in the Caribbean on anti-submarine and hunter-killer exercises. At frequent intervals between March 1952 and September 1964 she conducted four tours of duty with the 6th Fleet in the Mediterranean. Between 6 June and 4 August 1955 she served as a unit of midshipman cruise Able which visited Spain England and Cuba. In 1956 between October and December Basilone made a cruise of Northern Europe and the Mediterranean after which she returned to Norfolk.


[Note: The above USS BASILONE (DD-824) history may or may not contain text provided by crew members of the USS BASILONE (DD-824) or by other non-crew members and text from the Dictionary of American Naval Fighting Ships]