For RATING SHIRTS - Click on your Rating Abbreviation below:
Click on your Rating abbreviation above: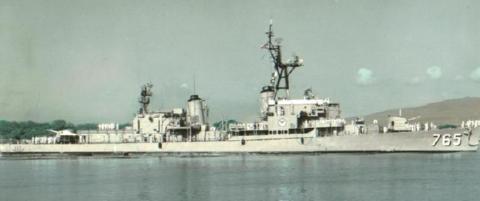 U.S.S. KEPPLER
(DD-765)

READY
Click to view crew list
USS KEPPLER (DD-765) - a Gearing-class destroyer
In Commission 1947 to 1972
DD-765 Deployments - Major Events
Add a DD-765 Shellback Initiation
Add a DD-765 Deployment - Major Event
Month
Year
to
Month
Year
Deployment / Event
JUN
1946
-
Launch Date: 24 JUN 1946
MAY
1947
-
Commissioned: 23 MAY 1947
DEC
1947
-
Shellback Initiation - 17 DEC 1947 - Pacific Ocean
APR
1955
-
APR
1956
glenn
APR
1955
-
APR
1956
glenn
APR
1955
-
APR
1955
Hurricane Carol
APR
1955
-
APR
1955
North Atlantic-Med-Indian Ocean
SEP
1955
-
NOV
1955
Guantanamo Bay
DEC
1955
-
MAR
1956
Mediterranean
JUL
1956
-
AUG
1956
Midshipman cruise
AUG
1958
-
DEC
1958
Mediterranean-Indian Ocean-Persian Gulf
OCT
1962
-
OCT
1962
Cuban Missle Blockade
SEP
1964
-
DEC
1964
Mediterranean
MAR
1966
-
Shellback Initiation - 12 MAR 1966 - Pacific Ocean
OCT
1966
-
MAY
1967
West Pac - Circumnavigation
MAR
1967
-
Shellback Initiation - 29 MAR 1967 - Pacific Ocean
MAR
1967
-
Shellback Initiation - 29 MAR 1967 - Indian Ocean
JAN
1968
-
DEC
1968
Mediterranean
JAN
1968
-
JUN
1968
North Atlantic
JAN
1968
-
JUN
1968
Blue Nose - Arctic Circle
FEB
1968
-
JUN
1968
Blue Nose - Arctic Circle
FEB
1968
-
APR
1968
Mediterranean
FEB
1968
-
JUN
1968
North Atlantic
APR
1968
-
NOV
1968
Mediterranean
JUL
1968
-
Shellback Initiation - 10 JUL 1968 - Atlantic Ocean
DEC
1969
-
DEC
1971
West Pac-Viet Nam
AUG
1970
-
JAN
1971
West Pac-Viet Nam
DEC
1970
-
Shellback Initiation - 7 DEC 1970 - Pacific Ocean
SEP
1971
-
DEC
1971
West Pac-Viet Nam
JUL
1972
-
Decommissioned: 1 JUL 1972
DD-765 General Specifications
Class: Gearing-class destroyer
Named for: Reinhardt J. Keppler
Complement: 267 Officers and Enlisted
Displacement: 2425 tons
Length: 390 feet 6 inches
Beam: 41 feet 1 inches
Flank Speed: 35 knots
Final Disposition: Sold to Turkey
USS KEPPLER (DD-765)
Keppler (DD-765) was launched 24 June 1946 by Bethlehem Steel Co. Shipbuilding Div. San Francisco sponsored by Mrs. Elizabeth L. Keppler widow of John R. Keppler and commissioned 23 May 1947 Comdr. P. M. Cauiglio in command.
After shakedown along the West Coast Keppler cleared San Diego 9 October 1947 for training exercises in Hawaiian waters. The destroyer then sailed to Australia and China before returning San Diego 20 May 1948. Early in 1949 Keppler entered San Francisco Navy Yard for conversion to antisubmarine destroyer. Resuming operations on the West Coast 9 June she departed San Diego 5 October for duty in the Atlantic
Arriving Norfolk 15 days later she immediately commenced intensive ASW exercises along the Atlantic Coast. Keppler sailed to Newport R.I. her new homeport for additional hunter-killer operations arriving 27 November. She was reclassified DDE-765 on 4 March 1950 and cleared Newport 5 July for the Mediterranean. Arriving Greece 27 July the antisubmarine destroyer was ordered to the Far East to help repel Communist aggression in Korea.
After transiting the Suez Canal and crossing the Indian Ocean Keppler joined the 7th Fleet in mid-August. For the next 2 months she patrolled the Formosa Strait before joining Philippine Sea (CV-47) on 17 November. For the next 3 months she screened her task group during continued carrier air strikes against Communist positions on the Korean mainland. Keppler then steamed for Yokosuka Japan arriving 7 February 1951. Three days later she cleared port for the United States reaching Newport 14 March. She was overhauled and for the rest of the year engaged in refresher training and ASW operations.
Keppler cleared Newport once again 9 January 1952 to participate in antisubmarine exercises with the powerful 6th Fleet. This cruise culminated in NATO Exercise "Grandslam " in which ships of several freedom loving nations operated together in practice maneuvers to prevent aggression. The antisubmarine destroyer returned to Newport 26 March and resumed operations along the Atlantic Coast.
From 1952 to 1957 Keppler continued her vital ASW exercises out of Newport and the Caribbean in addition to NATO operations and Mediterranean cruises with the 6th Fleet. During these years such exercises steadily perfected her ability to protect the nation from the threat of a growing Soviet submarine force.
On 4 January 1957 she sailed toward South American waters for a training and good will cruise. Before returning Newport 18 March she visited ports in Colombia Ecuador Peru Chile and Panama. After completing additional costal exercises Keppler was deployed to the Mediterranean 12 August. During September she transited the Suez Canal to strengthen forces in the Red Sea as Communists had gained control of the Syrian Army and threatened the pro-western government in Jordan. This display of American determination assuaged the crisis enabling Keppler to return to Newport 21 December.
From 1958 to 1961 the antisubmarine destroyer engaged in concentrated ASW operations along the Atlantic coast and Caribbean NATO exercises a midshipmen cruise in 1959 and a 6th Fleet deployment in the summer of 1960. Keppler entered New York Naval Shipyard 1 March 1961 for a FRAM II overhaul designed to increase her service and effectiveness. Following the overhaul she returned Newport 25 October and resumed antisubmarine duty 8 March 1962. Keppler sailed 4 June for a summer midshipmen cruise to Europe returning to Newport 30 August. She was reclassified DD-765 during that period.
Two months later a grave international crisis loomed as the Russians planted offensive missiles in Cuba only 90 miles from the United States. President Kennedy accepted this challenge and ordered a naval quarantine of Cuba. Keppler cleared Newport 22 October to take her station in the blockade. While patrolling her Caribbean sector she sighted a surfaced Russian submarine 2 November and observed her for the next 7 days. On 9 November the submarine joined a Russian trawler and Keppler continued her surveillance until the Russian ships turned back toward the Azores. Effective American seapower helped persuade the Soviet government to withdraw the missiles easing the crisis. The destroyer returned Newport 21 November.
During 1963 and 1964 Keppler continued hunter-killer exercises along the East Coast and Caribbean. She sailed 8 September 1964 for Mediterranean deployment and engaged in NATO exercises en route. The destroyer returned home 18 December.
Following overhaul in Boston Naval Shipyard Keppler operated out of Newport until sailing for the Far East 4 October 1966. Steaming via the Panama Canal she arrived Pearl Harbor 24 October and pushed on toward Japan a week later. She departed Yokosuka 14 November for plane guard duty in the Gulf of Tonkin. Early in December she was assigned naval gunfire support missions to assist allied troops fighting in South Vietnam and she also served in Operation "Sea Dragon" helping to interrupt infiltration of men and weapons into South Vietnam from the North. On the night of 11 and 12 December she rescued a downed pilot. Early in 1967 she returned to "Yankee Station" for plane guard duty and on 28 January assisted in the rescue of another pilot. In January and February her guns damaged or destroyed 51 Communist junks. Keppler's crew derived great "satisfaction from the fact that many of these targets suffered secondary explosions thus proving it was not 'fish' they were carrying." During this period Keppler frequently engaged enemy batteries ashore and 11 March a Communist gun scored a hit on one of the destroyer's gun mounts. Nevertheless she remained in the fight until returning to Subic Bay on the 23d. Three days later she headed homeward via the Indian Ocean the Suez Canal and the Mediterranean. Upon arriving Newport 8 May she resumed operations along the East Coast to prepare for future action.
Keppler received two battle stars for Korean service.


[Note: The above USS KEPPLER (DD-765) history may or may not contain text provided by crew members of the USS KEPPLER (DD-765) or by other non-crew members and text from the Dictionary of American Naval Fighting Ships]