For RATING SHIRTS - Click on your Rating Abbreviation below:
Click on your Rating abbreviation above: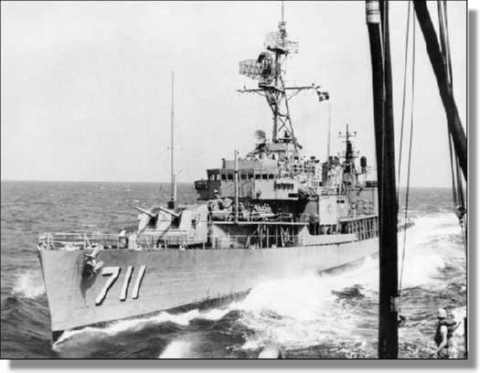 U.S.S. EUGENE A. GREENE
(DD-711)

ANYWHERE / ANYTIME
Click to view crew list
USS EUGENE A. GREENE (DD-711) - a Gearing-class destroyer
In Commission 1945 to 1972
DD-711 Deployments - Major Events
Add a DD-711 Shellback Initiation
Add a DD-711 Deployment - Major Event
Month
Year
to
Month
Year
Deployment / Event
AUG
1944
-
Keel Date: 17 AUG 1944
at Federal Shipbuilding and Drydock Company Kearny NJ
MAR
1945
-
Launch Date: 18 MAR 1945
JUN
1945
-
Commissioned: 8 JUN 1945
FEB
1947
-
Shellback Initiation - 20 FEB 1947 - Atlantic Ocean
JUN
1954
-
AUG
1954
Guantanamo Bay
OCT
1962
-
OCT
1962
Cuban Missle Blockade
JUN
1966
-
DEC
1966
West Pac-Viet Nam
NOV
1966
-
Shellback Initiation - 13 NOV 1966 - Pacific Ocean
NOV
1966
-
Shellback Initiation - 30 NOV 1966 - Pacific Ocean
NOV
1967
-
MAY
1968
Mediterranean-Indian Ocean-Persian Gulf
NOV
1967
-
Shellback Initiation - 12 NOV 1967 - Indian Ocean
JUL
1968
-
AUG
1968
UNITAS
MAR
1969
-
SEP
1969
Operation Deep Freeze
SEP
1969
-
MAR
1970
North Atlantic-Med-Indian Ocean
JAN
1970
-
JAN
1971
Mediterranean
JAN
1971
-
MAY
1971
Regular Overhaul
SEP
1971
-
SEP
1971
Blue Nose - Arctic Circle
SEP
1971
-
OCT
1971
NATO Exercise Royal Knight
DEC
1971
-
JUN
1972
Mediterranean
AUG
1972
-
Decommissioned: 31 AUG 1972
AUG
1972
-
AUG
1972
Renamed SNS Churruca (D-61)
SEP
1972
-
SEP
1972
Blue Nose - Arctic Circle
DD-711 General Specifications
Class: Gearing-class destroyer
Named for: Ensign Eugene A. Greene (1921-1942)
Complement: 336 Officers and Enlisted
Displacement: 3460 tons
Length: 390 feet 6 inches
Beam: 40 feet 10 inches
Flank Speed: 35 knots
Range: 4 500 Nautical Miles
Final Disposition:Transferred to Spain 31 August 1972
USS EUGENE A. GREENE (DD-711)
Eugene A. Greene (DD-711) was launched 18 March 1946 by Federal Shipbuilding and Drydock Co. Kearny N.J.; sponsored by Mrs. Anita M. Greene widow of Ensign Greene; and commissioned 8 June 1946 Commander W. V. Pratt III in command.
Eugene A. Greene operated along the east coast and in the Caribbean on shakedown training acting as plane guard during the qualification of pilots in carrier operations and training men for the crews of new destroyers. From her home port in Norfolk she sailed to Guantanamo Bay for training early in 1947 and on 13 February sailed in a task group bound for Montevideo Uruguay to participate in the festivities accompanying the inauguration of Uruguay's president. The group also paid a good will visit to Rio de Janeiro before returning to Norfolk 31 March.
On 10 November 1947 Eugene A. Greene sailed on the first of 9 Mediterranean cruises made over the next 13 years. During those years she and her sisters of the U.S. 6th Fleet have guarded the interests of peace and order in that sea which was the cradle of democratic government. Voyages to northern Europe and the Arctic varied the routine of overseas deployment for Eugene A. Greene.
Except for the period 1 April 1962 to 1 December 1952 when she was out of commission being converted to a radar picket destroyer Eugene A. Greene like nearly all other destroyers has had little time for relaxation. When not on distant duty she has sailed east coast and Caribbean waters constantly schooling reservists serving as plane guard in carrier operations exercising with large task groups and standing watch against any air or seaborne threat to the security of the free world.


[Note: The above USS EUGENE A. GREENE (DD-711) history may or may not contain text provided by crew members of the USS EUGENE A. GREENE (DD-711) or by other non-crew members and text from the Dictionary of American Naval Fighting Ships]