For US NAVY RATING SHIRTS - Click on your Rating Abbreviation below: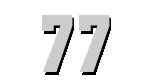 U.S.S. GEORGE H. W. BUSH
(CVN-77)

Click Here
Click to view crew list
CVN-77 Deployments - Major Events
CVN-77 General Specifications
Class: Nimitz-class aircraft carrier
Displacement: 102000 tons
Length: 1092 feet
Beam: 252 ft max.; 134 ft at waterlne
Draft: 37 ft
Power Plant: Two (2) nuclear reactors / four (4) sets of turbines / four (4) shafts
Propellers: Four (4) - Each 25 ft dia.
Flank Speed: over 30 knots
Range: Unlimited - Refueled at approx. 25 years of service
Ships Company: approx 3200 Officers and Enlisted
Carrier Air Wing:
- 7 Fixed Wing Squadrons
- 1 Helicoper Squadron
- approx. 2400 Officers and Enlisted