For US NAVY RATING SHIRTS - Click on your Rating Abbreviation below:
Click on your Rating abbreviation above: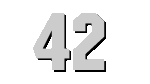 U.S.S. FRANKLIN D. ROOSEVELT
(CV-42)

WE CAN
Click to view crew list
USS Franklin D. Roosevelt was commissioned on Oct. 27, 1945 and served until October 1977. She was built at the New York Navy Yard. After her initial shakedown voyage, she was deployed with the Eighth Fleet in spring 1946 for major training exercises. Her first deployment to the Mediterranean came later that same year.
As the Cold War began to escalate, she regularly participated in operations with the Sixth Fleet near Southern Europe. She regularly carried conventional and nuclear-armed aircraft. In October 1952, she was reclassified as an attack aircraft carrier. This changed her hull number to CVA-42. From 1954 to 1956, the ship went through a modernization on the US west coast. In November, 1956, the new and improved aircraft carrier returned to the east coast.
For the next decade, Franklin D. Roosevelt made several return trips to the Mediterranean. In March 1961, the ship recorded the 100,000th landing on her deck. The only cruise to the Western Pacific came in late 1966 through early 1967. She underwent a further modernization and then returned to the Mediterranean for many more voyages through the 1970's. In June 1975, her hull number changed again to CV-42. After completing her 23 voyage, the ship was decommissioned.
CV-42 Deployments - Major Events
Add a CV-42 Shellback Initiation
Add a CV-42 Deployment - Major Event
Month
Year
to
Month
Year
Deployment / Event
DEC
1943
-
Keel Date: 1 DEC 1943
at New York Naval Shipyard
APR
1945
-
Launch Date: 29 APR 1945
OCT
1945
-
Commissioned: 27 OCT 1945
JAN
1946
-
MAR
1946
Middle Pacific
JAN
1946
-
Shellback Initiation - 28 JAN 1946 - Atlantic Ocean
AUG
1946
-
NOV
1946
Mediterranean
SEP
1948
-
JAN
1949
Mediterranean
SEP
1951
-
MAR
1952
Mediterranean
JUN
1952
-
JUL
1952
Caribbean
JUL
1952
-
DEC
1952
Blue Nose - Artic Circle
JUL
1952
-
JUL
1952
Guantanamo Bay
SEP
1952
-
DEC
1952
Mediterranean-Lebanon
SEP
1952
-
SEP
1952
Blue Nose - Artic Circle
SEP
1952
-
OCT
1952
Arctic Circle / Scotland / England / Portugal
MAY
1953
-
NOV
1953
Mediterranean
JAN
1954
-
MAR
1954
Norfolk-Brazil -UruguayArgentina-around Horn-Peru Panama-S.F.-B
JAN
1954
-
JAN
1954
Shellback Initiation
JUL
1956
-
Shellback Initiation - 7 JUL 1956 - Pacific Ocean
JUL
1957
-
MAR
1958
Mediterranean
FEB
1959
-
SEP
1959
Mediterranean
FEB
1960
-
SEP
1960
Mediterranean
MAR
1961
-
OCT
1961
Mediterranean
JAN
1962
-
JAN
1963
Mediterranean
MAR
1962
-
MAR
1962
Caribbean
AUG
1962
-
APR
1963
Cuban Missle Blockade
SEP
1962
-
NOV
1962
Cuban Missle Blockade
SEP
1962
-
APR
1963
Mediterranean
MAY
1963
-
DEC
1963
Dry Dock
APR
1964
-
DEC
1964
Mediterranean
APR
1964
-
DEC
1964
Mediterranean Cruise
JUN
1965
-
DEC
1965
Mediterranean
JAN
1966
-
MAY
1966
Caribbean
JUN
1966
-
FEB
1967
West Pac-Viet Nam
JUL
1966
-
Shellback Initiation - 26 JUL 1966 - Atlantic Ocean
JUL
1966
-
Shellback Initiation - 4 JUL 1966 - Atlantic Ocean
AUG
1966
-
JAN
1967
West Pac
JAN
1967
-
Shellback Initiation - 22 JAN 1967 - Indian Ocean
AUG
1967
-
JUN
1968
Mediterranean
JAN
1970
-
AUG
1970
Mediterranean
JAN
1971
-
JUL
1971
Mediterranean
JAN
1972
-
APR
1972
Mediterranean-Indian Ocean
FEB
1972
-
DEC
1972
Mediterranean
APR
1973
-
SEP
1973
Dry Dock
SEP
1973
-
MAR
1974
Mediterranean
SEP
1973
-
MAR
1974
Mediterranean-Indian Ocean
JAN
1975
-
JUN
1975
Mediterranean
OCT
1976
-
MAY
1977
Mediterranean
SEP
1977
-
Decommissioned: 30 SEP 1977
CV-42 General Specifications
Class: Midway-class aircraft carrier
Named for: Franklin D. Roosevelt
Complement: 4104 Officers and Enlisted
Displacement: 45000 tons
Length: 968 feet
Beam: 113 feet
Flank Speed: 33 knots
Final Disposition: Scrapped
USS FRANKLIN D. ROOSEVELT (CV-42)
Franklin D. Roosevelt (CVB-42) was launched 29 April 1945 by New York Naval Shipyard as Coral Sea (CVB-42); sponsored by Mrs. John H. Towers wife of the Deputy Commander in Chief Pacific Fleet; renamed Franklin D. Roosevelt 8 May 1945; and commissioned 27 October 1945 Captain A. Soucek in command. She was reclassified CVA-42 on 1 October 1952.
During her shakedown cruise Franklin D. Roosevelt called at Rio de Janeiro 1 to l1 February 1946 to represent the United States at the inauguration of the Brazilian president Eurico G. Dutra who came aboard for a short cruise. Fleet maneuvers and other training operations in the Caribbean preceded her first deployment to the Mediterranean from 8 August to 4 October during which she was a part of a U.S. Navy force which visited Athens to bolster the government of Greece during its successful f ight against the Communist. She received thousands of visitors during her calls to many Mediterranean ports giving Europeans an opportunity to view this impressive addition to America's seapower for peace. The first opportunity for general visiting by the American public came at New York City during Navy Day celebrations of late October.
Franklin D. Roosevelt operated off the east coast until July 1947 when she entered Norfolk Naval Ship Yard for a prolonged overhaul during which she received improvements to her equipment and facilities. On 13 September 1948 the carrier sailed from Norfolk for a second tour of duty with the Mediterranean forces from which she returned 23 January 1949. During the next 5 years Franklin D. Roosevelt took part in intensive operations off the Virginia Capes along the east coast and in th e Caribbean and made four tours of duty in the Mediterranean. Assigned to extensive conversion at Puget Sound Naval Ship Yard the carrier sailed from Norfolk 7 January 1954. Too large to pass through the Panama Canal she rounded Cape Horn and arrive d at the shipyard 5 March. She was decommissioned there 23 April 1954.
In February 1957 Franklin D. Roosevelt sailed to the Gulf of Maine for cold weather tests of catapults aircraft and other carrier equipment including the "Regulus" guided missile. In July she sailed for the first of three post-conversion cr uises to the Mediterranean completed through 1960. Her assignments in the Mediterranean added NATO exercises to her normal schedule of major fleet operations and found her each year entertaining a distinguished list of guests. A constant emphasis on he r stateside operations was development of advanced tactics and procedures.


[Note: The above USS FRANKLIN D. ROOSEVELT (CV-42) history may or may not contain text provided by crew members of the USS FRANKLIN D. ROOSEVELT (CV-42) or by other non-crew members and text from the Dictionary of American Naval Fighting Ships]