Click on your Rating abbreviation above: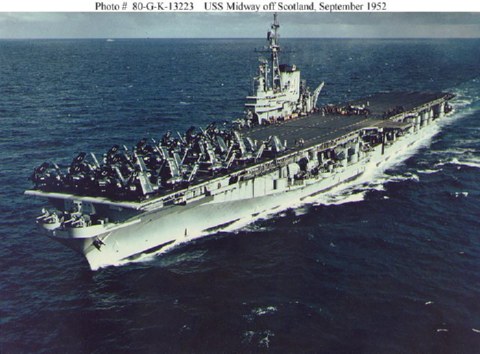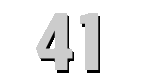 U.S.S. MIDWAY
(CV-41)

Tip of the Sword
Click to view crew list
USS Midway, built in Newport News, Virginia, was commissioned in September 1945. She served in the Atlantic Fleet for her first eight years of service. The ship was used in a couple of important naval experiments. In 1946, she was sent to the Arctic to test cold water operations. In 1947, she was the launch pad for a V-2 ballistic missile. Later that same year, the carrier began its first deployment to the Mediterranean. For the next few years she worked in both the Mediterranean and in the North Atlantic.
In October 1952, her hull number was changed from CVB-41 to CVA-41. This was due to her reclassification to an attack aircraft carrier. In 1954, she joined the Seventh Fleet for a year. Late in 1955, she underwent her first modernization. This expanded her flight deck and updated her equipment to handle the latest aircraft.
After her return two years later, Midway went back to the Seventh Fleet. She saw active combat operations in 1965 with the Vietnam conflict. In 1966, she began her second modernization. This involved expanding her deck once again. After returning to service in 1970, she returned to the Seventh Fleet supporting combat operations. In 1975, she was renumbered CV-41.
In 1986, she underwent her third modernization. In the early 1990's, she participated in the first Iraq conflict. Afterwards she returned to the Seventh Fleet. In April 1992, she was decommissioned. At this time, she has been converted to a museum located in San Diego.
CV-41 Deployments - Major Events
Add a CV-41 Shellback Initiation
Add a CV-41 Deployment - Major Event
Month
Year
to
Month
Year
Deployment / Event
OCT
1943
Keel Date: 27 OCT 1943
at Newport News Shipbuilding & Drydock Co. Newport News VA
MAR
1945
Launch Date: 20 MAR 1945
SEP
1945
Commissioned: 10 SEP 1945
DEC
1954
-
JUL
1955
World Cruise
JAN
1955
-
Shellback Initiation - 6 JAN 1955 - Atlantic Ocean
SEP
1957
-
APR
1958
Recommisioning
NOV
1958
-
MAR
1959
West Pac
NOV
1959
-
MAR
1960
West Pac
FEB
1961
-
SEP
1961
West Pac
MAR
1961
-
MAY
1961
LAOTIAN CRISIS (AFEM)
MAY
1962
-
NOV
1962
West Pac
NOV
1963
-
JUL
1964
West Pac
FEB
1965
-
NOV
1965
West Pac-Viet Nam
MAR
1965
-
NOV
1965
West Pac-Viet Nam
OCT
1965
-
OCT
1965
VA-25 Dropped Toiler BOMB on North Vietnam - 6-Million Lbs.
OCT
1965
-
OCT
1965
West Pac-Viet Nam
JAN
1970
-
DEC
1971
West Pac-Viet Nam
APR
1971
-
NOV
1971
West Pac-Viet Nam
APR
1972
-
FEB
1973
West Pac-Viet Nam
DEC
1972
-
Shellback Initiation - 13 DEC 1972 - Pacific Ocean
OCT
1973
-
Changed homeport to Yokosuka Japan
APR
1975
-
MAY
1975
Operation Frequent Wind (Evacuation of Saigon)
APR
1975
-
APR
1975
OPERATION FREQUENT WIND
NOV
1975
-
Shellback Initiation - 1 NOV 1975 - Indian Ocean
JAN
1977
-
NOV
1979
West Pac
MAR
1977
-
APR
1977
West Pac-Viet Nam
AUG
1977
-
NOV
1977
West Pac-Indian Ocean
OCT
1977
-
Shellback Initiation - 11 OCT 1977 - Indian Ocean
APR
1979
-
Shellback Initiation - 18 APR 1979 - Indian Ocean
MAY
1979
-
MAY
1979
West Pac-Indian Ocean-Persian Gulf
OCT
1979
-
NOV
1979
West Pac
OCT
1979
-
FEB
1980
West Pac-Indian Ocean
APR
1980
-
Shellback Initiation - 19 APR 1980 - Indian Ocean
JUL
1980
-
AUG
1980
Collision with SS Cactus/Drydock in Olongapo PI
AUG
1980
-
Shellback Initiation - 22 AUG 1980 - Indian Ocean
AUG
1980
-
Shellback Initiation - 22 AUG 1980 - Indian Ocean
AUG
1980
-
NOV
1980
West Pac-Indian Ocean-Persian Gulf
NOV
1980
-
JAN
1981
Dry Dock
APR
1984
-
Shellback Initiation - 19 APR 1984 - Indian Ocean
JUN
1985
-
SEP
1985
West Pac-Indian Ocean
AUG
1985
-
Shellback Initiation - 27 AUG 1985 - Indian Ocean
MAY
1987
-
Shellback Initiation - 22 MAY 1987 - Indian Ocean
NOV
1987
-
APR
1988
Escorting Reflagged Oil Tankers Through the Persian Gulf
NOV
1987
-
APR
1988
West Pac-Indian Ocean
JAN
1988
-
Shellback Initiation - 7 JAN 1988 - Indian Ocean
OCT
1989
-
OCT
1989
Midway Pilot dropped a 500lb bomb on the USS Reeves.
OCT
1989
-
Shellback Initiation - 16 OCT 1989 - Indian Ocean
OCT
1990
-
APR
1991
OPERATION DESERT SHIELD/IMMINENT THUNDER/DESERT STORM
OCT
1990
-
APR
1991
Desert Shield
OCT
1990
-
APR
1991
Desert Storm
APR
1992
Decommissioned: 11 APR 1992
CV-41 General Specifications
Class: Midway-class aircraft carrier
Named for: Battle of Midway
Complement: 4104 Officers and Enlisted
Displacement: 45000 tons
Length: 972 feet
Beam: 113 feet
Flank Speed: 33 knots
Final Disposition: Museum ship
USS MIDWAY (CV-41)
The third Midway (CVB-41) was laid down 27 October 1943 by Newport News Shipbuilding Co. Newport News Va.; launched 20 March 1945; sponsored by Mrs. Bradford William Ripley Jr.; and commissioned 10 September 1945 Capt. Joseph F. Bolger in command.
After shakedown in the Caribbean MIDWAY joined in the Atlantic Fleet training schedule with Norfolk her homeport. From 20 February 1946 she was flagship for CarDiv 1. In March she tested equipment and techniques for cold weather operations in the No rth Atlantic. East coast and Caribbean training was highlighted by operation "Sandy " in which in September 1947 she test fired a captured German V-2 rocket from her flight deck first such launching from a moving platform.
On 29 October 1947 Midway sailed for the first of her annual deployments with the 6th Fleet mighty peacekeeping force in the Mediterranean. A powerful extension of sea/air power Midway trained between deployments and received alteration s necessary to accommodate heavier aircraft as they were developed. In 1952 she participated in North Sea maneuvers with NATO forces and on 1 October was redesignated CVA-41.
Midway cleared Norfolk 27 December 1954 for a world cruise sailing via the Cape of Good Hope for Taiwan where she joined the 7th Fleet for operations in the Western Pacific until 28 June 1955 when she sailed for overhaul at Puget Sound Naval Ship yard. Here she was out of commission until 30 September 1957 while she was modernized and such new innovations as an enclosed bow and an angled flight deck were installed.
Homeported at Alameda Midway began annual deployments with the 7th Fleet in 1958 and was on such duty in the South China Sea during the Laotian crisis of spring l961. During her 1962 deployment her aircraft tested the air defense systems of Ja pan Korea Okinawa the Philippines and Taiwan. When she again sailed for the Far East 6 March 1965 her aircraft were prepared for combat operations and from mid-April flew strikes against military and logistics installations in North and South Vietn am. Illustrative of the major contribution the carrier made to the campaign of the free forces to repel Communist aggression was a notable "first" for aviators of her Attack Carrier Wing 2 who in June downed the first three MIGs credited to U.S. Forces in Southeast Asia. Returning to Alameda 23 November she entered San Francisco Bay Naval Shipyard 11 February 1966 for extensive modernization for which she was placed in Reserve in commission special 15 February 1966. She is scheduled for recommiss ion in January 1970.


[Note: The above USS MIDWAY (CV-41) history may or may not contain text provided by crew members of the USS MIDWAY (CV-41) or by other non-crew members and text from the Dictionary of American Naval Fighting Ships]