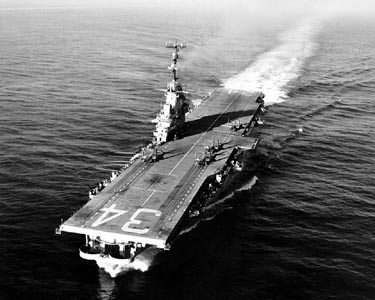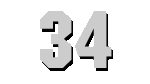 U.S.S. ORISKANY
(CV-34)

THE MIGHTY O
Click to view crew list
Named for the Revolutionary War battle of the Saratoga campaign, the USS Oriskany was commissioned in 1950. The ship had been originally designed during the later years of World War II. Her design was radically changed to modernize it for more advanced aircraft. After the ship was finally commissioned, she was sent to the Mediterranean in 1951.
In May 1952, she joined the Pacific Fleet with one combat cruise to Korea from 1952 through 1953. She continued her Seventh Fleet work through the next two decades. The only time she was out of commission was from 1957 to early 1959. This was modernization to get her equipped to handle the latest aircraft.
Oriskany served several combat tours during the Vietnam conflict. On Oct. 26, 1966, a tragic fire in the forward compartments killed 44 servicemen. She was repaired and returned to service in mid 1967. She was decommissioned in 1976. But her story does not end there. She was stricken from the Naval Register in 1989 and sold for scrapping 5 years later. After several years, it was repossessed and went back into limbo. On May 17, 2006, the ship was sunk off of the Florida coast as an artificial reef.
CV-34 Deployments - Major Events
Add a CV-34 Shellback Initiation
Add a CV-34 Deployment - Major Event
Month
Year
to
Month
Year
Deployment / Event
MAY
1944
-
Keel Date: 1 MAY 1944
at New York Naval Shipyard
OCT
1945
-
Launch Date: 13 OCT 1945
JAN
1950
-
JAN
1956
Mediterranean
JAN
1950
-
JAN
1953
Cape Horn
SEP
1950
-
Commissioned: 25 SEP 1950
JAN
1951
-
AUG
1951
Cape Horn
JAN
1951
-
FEB
1952
Mediterranean
JAN
1952
-
DEC
1953
West Pac
JUN
1952
-
Shellback Initiation - 14 JUN 1952 - Atlantic Ocean
JUN
1952
-
Shellback Initiation - 14 JUN 1952 - Atlantic Ocean
JUL
1952
-
JUL
1952
Cape Horn
SEP
1952
-
MAY
1953
West Pac
MAR
1955
-
SEP
1956
West Pac
FEB
1956
-
SEP
1956
West Pac
JAN
1957
-
JAN
1957
Decommisioning
MAY
1960
-
DEC
1960
West Pac
JUN
1962
-
DEC
1962
West Pac-Viet Nam
JUN
1962
-
DEC
1962
West Pac
JUL
1963
-
MAY
1964
West Pac-Viet Nam
AUG
1963
-
MAR
1964
West Pac-Viet Nam
AUG
1963
-
MAR
1964
West Pac
JAN
1964
-
MAY
1964
West Pac-Viet Nam
MAR
1964
-
JAN
1965
Dry Dock
MAR
1965
-
DEC
1965
West Pac-Viet Nam
APR
1965
-
NOV
1965
West Pac-Viet Nam
APR
1965
-
NOV
1965
West Pac
NOV
1965
-
AUG
1966
West Pac-Viet Nam
MAY
1966
-
NOV
1966
West Pac-Viet Nam
MAY
1966
-
NOV
1966
West Pac
JUN
1967
-
JAN
1968
West Pac-Viet Nam
SEP
1968
-
Shellback Initiation - 9 SEP 1968 - Pacific Ocean
OCT
1968
-
JUN
1969
West Pac-Viet Nam
APR
1969
-
NOV
1969
West Pac-Viet Nam
MAY
1969
-
MAR
1973
West Pac-Viet Nam
MAY
1970
-
DEC
1970
West Pac - Viet Nam
APR
1971
-
DEC
1971
West Pac-Viet Nam
OCT
1971
-
Shellback Initiation - 12 OCT 1971 - Pacific Ocean
NOV
1971
-
Shellback Initiation - 22 NOV 1971 - Pacific Ocean
NOV
1971
-
Shellback Initiation - 21 NOV 1971 - Pacific Ocean
NOV
1971
-
Shellback Initiation - 21 NOV 1971 - Pacific Ocean
NOV
1971
-
Shellback Initiation - 22 NOV 1971 - Indian Ocean
JUN
1972
-
Shellback Initiation - 6 JUN 1972 - Pacific Ocean
JUN
1972
-
MAR
1973
West Pac-Viet Nam
SEP
1973
-
Shellback Initiation - 15 SEP 1973 - Pacific Ocean
SEP
1973
-
MAY
1974
West Pac-Indian Ocean
DEC
1973
-
Shellback Initiation - 15 DEC 1973 - Indian Ocean
DEC
1973
-
Shellback Initiation - 20 DEC 1973 - Indian Ocean
DEC
1973
-
Shellback Initiation - 15 DEC 1973 - Indian Ocean
DEC
1973
-
Shellback Initiation - 22 DEC 1973 - Indian Ocean
AUG
1974
-
APR
1975
Long Beach Naval Shipyard and Drydock (8 month extended stay)
NOV
1974
-
MAY
1975
West Pac
OCT
1975
-
Shellback Initiation - 7 OCT 1975 - Indian Ocean
OCT
1975
-
Shellback Initiation - 15 OCT 1975 - Indian Ocean
SEP
1976
-
Decommissioned: 30 SEP 1976
CV-34 General Specifications
Class: Essex-class aircraft carrier
Named for: Battle of Oriskany
Complement: 2600 Officers and Enlisted
Length: 904 feet
Draft: 30 feet 6 in
Flank Speed: 33 knots
Final Disposition: Sunk as part of a pilot program to create artificial reefs 17 May 2006
USS ORISKANY (CV-34)
Oriskany (CVA-34) an attack aircraft carrier was laid down 1 May 1944 by the New York Naval Shipyard launched 13 October 1945; and sponsored by Mrs. Clarence Cannon. While still incomplete her construction was suspended 12 August 1947. Sh e remained in a state of preservation until after the outbreak of hostilities in Korea in June 1950 then was rushed to completion. She commissioned in the New York Naval Shipyard 25 September 1950 Capt. Percy H. Lyon in command.
Oriskany departed New York 6 December 1950 for carrier qualification operations off Jacksonville Fla. followed by a Christmas call at Newport R. I. She resumed operations off Jacksonville through 11 January 1951 when she embarked Carrier Air G roup 1 for shakedown out of Guantanamo Bay Cuba.
After major modifications at New York Naval Shipyard 6 March through 2 April she embarked Carrier Air Group 4 for training off Jacksonville then departed Newport 15 May 1951 for Mediterranean deployment with the 6th Fleet.
For the next few months she added her far-reaching air arm to the strength of the 6th Fleet the silent flexible and controlling weapon of deterrence to overt Soviet aggression in the Mediterranean and the Near East. The mobile 7th Fleet was deeply co mmitted to a shooting war to help restore the independence and freedom of South Korea. Oriskany was part of the affirmative answer to the crucial question as to whether the Korean War would have an affect upon the Navy's ability to maintain the st atus quo in the Mediterranean.
Having swept from ports of Italy and France to those of Greece and Turkey thence to the shores of Tripoli Oriskany returned to Quonset Point R. I. 4 October 1951. She entered Gravesend Bay New York 6 November 1951 to offload ammunition and to have her masts removed to allow passage under the East River Bridges to the New York Naval Shipyard. Overhaul included the installation of a new flight deck steering system and bridge. Work was complete by 15 May 1952 and the carrier steamed the next day to take on ammunition at Norfolk 19-22 May. She then got underway to join the Pacific Fleet steaming via Guantanamo Bay Rio de Janeiro Cape Horn Valparaiso and Lima arriving San Diego Calif. 21 July.
Following carrier qualifications for Air Group 102 Oriskany departed San Diego 15 September 1952 to aid UN forces in Korea. She arrived Yokosuka 17 October and joined Fast Carrier Task Force 77 off the Korean Coast 31 October. Her aircraft stru ck hard with bombing and strafing attacks against enemy supply lines and coordinated bombing missions with surface gunstrikes along the coast. Her pilots downed two Soviet-built MIG-15 jets and damaged a third 18 November.
Strikes continued through 11 February heaping destruction upon enemy artillery positions troop emplacements and supply dumps along the main battlefront. Following a brief upkeep period in Japan Oriskany returned to combat 1 March 1953. She c ontinue d in action until 29 March called at Hong Kong then resumed air strikes 8 April. She departed the Korean Coast 22 April touched at Yokosuka and then departed for San Diego 2 May arriving there 18 May.
Following readiness training along the California coast Oriskany departed San Francisco 14 September to aid the 7th Fleet watching over the uneasy truce in Korea arriving Yokosuka 15 October. Thereafter she cruised the Sea of Japan the East Ch ina Sea and the area of the Philippines. After providing air support for Marine amphibious assault exercises at Iwo Jima the carrier returned to San Diego 22 April 1954. She entered San Francisco Naval Shipyard for modernization overhaul; completed 22 October when she stood out to sea for the first of a series of coastal operations.
Oriskany arrived at Yokosuka from San Francisco 2 April 1955 and operated with the Fast Carrier Task Force ranging from Japan and Okinawa to the Philippines. This deployment ended 7 September and the carrier arrived Alameda Calif. 21 September.
The attack carrier cruised the California Coast while qualifying pilots of Air Group 9 then put to sea from Alameda 11 February 1956 for another rigorous Westpac deployment. She returned to San Francisco 13 June and entered the shipyard for overhaul 1 October. She decommissioned there 2 January 1957 for modernization work that included a new angled flight deck and enclosed hurricane bow. New powerful steam catapults were installed by the Puget Sound Naval Shipyard Bremerton Wash.
Oriskany recommissioned at the San Francisco Naval Shipyard 7 March 1959 Capt. James Mahan Wright in command. Four days later she departed for shakedown out of San Diego with Carrier Air Group 14 embarked. Operations along the west coast cont inued until 14 May 1960 when she again deployed to Westpac returning to San Diego 15 December. She entered San Francisco Naval Shipyard 30 March 1961 for a five-month overhaul that included the first aircraft carrier installation of the Naval Tactical Data System (NTDS).
Oriskany departed the shipyard 9 September for underway training out of San Diego until 7 June 1962 when she again deployed to the Far East with Carrier Air Group 16 embarked. She returned to San Diego 17 December 1962 for operational readiness t raining off the west coast.
The carrier again stood out of San Diego 1 August 1963 for Far Eastern waters with Carrier Air Group 16 embarked. She arrived Subic Bay 31 August 1963; thence to Japan. She stood out of Iwakuni Japan the morning of 31 October enroute the coast of Sou th Vietnam. There she stood by for any eventuality as word was received of the coup d'etat taking place in Saigon. When the crisis abated the carrier resumed operations from Japanese ports.
Oriskany returned to San Diego 10 March 1964. After overhaul at Puget Sound Naval Shipyard she steamed for refresher training out of San Diego followed by qualifications for Carrier Wing 16. During this period her flight deck was used to test the E-2 A "Hawkeye " the Navy's new airborne early warning aircraft. She also provided orientation to senior officers of eight allied nations.
Oriskany departed San Diego 5 April 1965 for Westpac arriving Subic 27 April. By this time more United States troops had landed in South Vietnam to support Vietnamese troops against increased Viet Cong pressure to destroy the independence of tha t nation. Oriskany added her weight to the massive American naval strength supporting the freedom of South Vietnam. In combat operations that brought her and embarked Carrier Wing 16 the Navy Unit Commendation for exceptionally meritorious servic e between 10 May and 6 December 1965 she carried out over 12 000 combat sorties and delivered nearly 10 000 tons of ordnance against enemy forces. She departed Subic Bay 30 November and returned to San Diego 16 December.
Oriskany again stood out of San Diego for the Far East 26 May 1966 arriving Yokosuka 14 June. She steamed for "Dixie Station" off South Vietnam 27 June. Wearisome days and nights of combat shifted to "Yankee Station" in the Gulf of Tonkin 8 Jul y. In the following months there were brief respites for replenishment in Subic Bay. Then back into the action that saw her launch 7 794 combat sorties.
The carrier was on station the morning of 27 October 1966 when a fire erupted on the starboard side of the ship's forward hanger bay and raced through five decks claiming the lives of 44 men. Many who lost their lives were veteran combat pilots who had flown raids over Vietnam a few hours earlier. Oriskany had been put in danger when a magnesium parachute flare exploded in the forward flare locker of Hanger Bay 1 beneath the carrier's flight deck. Her crewmen performed fantastic feats in jett isoning heavy bombs which lay within reach of the flames. Other men wheeled planes out of danger rescued pilots and helped quell the blaze through three hours of prompt and daring actions. Medical assistance was rushed to the carrier from sister aircr aft carriers Constellation (CVA-64) and Franklin D. Roosevelt (CVA-42).
Oriskany steamed to Subic Bay 28 October where victims of the fire were transferred to waiting aircraft for transportation to the United States. A week later the carrier departed for San Diego arriving 16 November. San Francisco Bay Naval Shi pyard completed repairs 23 March 1967 and Oriskany with Carrier Air Wing 16 embarked underwent training. She then stood out of San Francisco Bay 16 June to take station in waters off Vietnam. Designated flagship of Carrier Division 9 in Subic B ay 9 July she commenced "Yankee Station" operations 14 July. While on the line 26 July she provided medical assistance to the fire-ravaged attack carrier Forrestal (CVA-59).
Oriskany returned to the Naval Air Station pier at Alameda Calif. 31 January 1968 and entered San Francisco Bay Naval Shipyard 7 February for an eight month overhaul. Upon completion of work the carrier underwent refresher training and flight qualifications before deploying to the Far East in April 1969. Into 1970 she continues to serve her nation in the Pacific.
Oriskany received two battle stars for Korean Service and five for Vietnamese service.


[Note: The above USS ORISKANY (CV-34) history may or may not contain text provided by crew members of the USS ORISKANY (CV-34) or by other non-crew members and text from the Dictionary of American Naval Fighting Ships]