| | |
| --- | --- |
| | |
| | |
| | Click on your Rating abbreviation above: |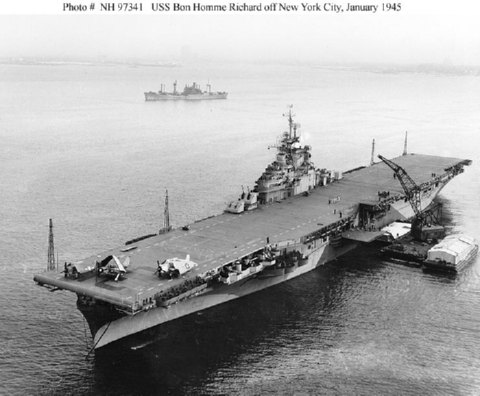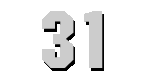 USS BON HOMME RICHARD
(CV-31)

I Have Not Yet Begun to Fight
Click to view crew list
USS Bon Homme Richard (CV-31)
From 1944 to 1992, the USS Bon Homme Richard was a part of the Naval Fleet. She was an aircraft carrier of the Essex-class, weighing in at 27,100 tons. Bon Homme Richard was deployed in March of 1945 and joined other carriers in the final raids on Japan in the Pacific. Although the hostility ended in mid-August, the ship remained off the coast of Japan until September of that year, and then returned home.
Into 1946, she was occupied by the 'Magic Carpet' personnel transport services and, after that, was inactive until 1947 when she was decommissioned. In 1951, she was recommissioned and joined forces in fighting the Korean War.
Later that year, Bon Homme Richard returned home again, only to go back to combat in 1952. From May to December of that year, she was reclassified as a CVA-31 and was put into combat. In 1953, the ship was again decommissioned, but this time to undergo renovations to allow for the operation of high-performance jets.
In 1955, she was back on the water, deployed many times as a part of the 7th Fleet. There were subsequent cruises in the Western Pacific before heading into combat once again in the Vietnam War. Finally, she was decommissioned in 1971 and joined the Reserve Fleet in Bremerton, Washington for two decades before being sold in March of 1992 for scrapping.
CV-31 Deployments - Major Events
Add a CV-31 Shellback Initiation
Add a CV-31 Deployment - Major Event
Month
Year
to
Month
Year
Deployment / Event
FEB
1943
Keel Date: 1 FEB 1943
at New York Naval Shipyard
APR
1944
Launch Date: 29 APR 1944
NOV
1944
Commissioned: 26 NOV 1944
FEB
1951
-
JAN
1953
West Pac
AUG
1956
-
FEB
1957
West Pac
JUL
1957
-
DEC
1957
visit by Chang Ki Check and visit by Arliegh Burke
JUL
1957
-
DEC
1957
West Pac
NOV
1957
-
DEC
1957
West Pac
JAN
1958
-
JAN
1959
West Pac
OCT
1958
Shellback Initiation - 14 OCT 1958 - Indian Ocean
OCT
1958
-
JUN
1959
West Pac
NOV
1959
Shellback Initiation - 10 NOV 1959 - Indian Ocean
NOV
1959
-
MAY
1960
West Pac-Indian Ocean
APR
1961
-
DEC
1961
West Pac
JUL
1962
-
FEB
1963
West Pac
JAN
1964
-
JAN
1965
West Pac
JAN
1964
-
DEC
1964
West Pac-Viet Nam
JAN
1964
-
DEC
1964
West Pac-Indian Ocean
APR
1964
-
Shellback Initiation - 8 APR 1964 - Indian Ocean
APR
1964
-
Shellback Initiation - 19 APR 1964 - Indian Ocean
APR
1964
-
Shellback Initiation - 8 APR 1964 - Pacific Ocean
AUG
1964
-
DEC
1964
West Pac-Viet Nam
JAN
1965
-
JAN
1967
West Pac
APR
1965
-
DEC
1965
West Pac-Viet Nam
AUG
1965
-
FEB
1966
West Pac-Viet Nam
JAN
1967
-
AUG
1967
West Pac-Viet Nam
JAN
1968
-
OCT
1968
West Pac-Viet Nam
JUN
1968
Shellback Initiation - 12 JUN 1968 - Pacific Ocean
SEP
1968
-
Shellback Initiation - 9 SEP 1968 - Pacific Ocean
MAR
1969
-
SEP
1969
West Pac
MAR
1970
-
NOV
1970
West Pac-Viet Nam
SEP
1970
Shellback Initiation - 10 SEP 1970 - Pacific Ocean
JUL
1971
Decommissioned: 2 JUL 1971
CV-31 General Specifications
Class: Essex-class aircraft carrier
Named for: USS Bonhomme Richard (1765)
Complement: 2600 Officers and Enlisted
Length: 820 feet
Draft: 28 feet 5 inches
Flank Speed: 33 knots
Final Disposition: Scrapped in 1992
USS BON HOMME RICHARD (CV-31)
The second Bon Homme Richard (CV-31) was launched 29 April 1944 by New York Navy Yard sponsored by Mrs. J. S. McCain wife of Vice Admiral McCain and commissioned 26 November 1944 Captain A. O. Rule Jr. in command.


Bon Homme Richard departed Norfolk 19 March 1945 to join the Pacific Fleet and arrived at Pearl Harbor 5 April 1945. Following additional training in Hawaiian waters the carrier joined TF 38 off Okinawa 6 June 1945. During 7-10 June she joined in the attacks on Okino Daito Jima and then served with the 3rd Fleet during the air strikes against Japan (2 July-15 August). She remained off Japan until 16 September and after a short training period off Guam proceeded to San Francisco arriving 20 October.

She left San Francisco 29 October and steamed to Pearl Harbor to undergo conversion for troop transport duty. From 8 November 1945 to 16 January 1946 she made trans-Pacific voyages returning servicemen to the United States. Bon Homme Richard then reported to Puget Sound Naval Shipyard for inactivation and was placed out of commission in reserve 9 January 1947.


Bon Homme Richard was recommissioned 15 January 1951 and on 10 May departed San Diego for the Far East. She joined TF 77 off Korea on 29 May and launched her first air strikes 31 May. Bon Homme Richard continued operations with TF 77 unti l 20 November 1951. The carrier reached San Diego in mid-December and on 20 May 1952 was off again to the Far East. She joined TF 77 once more on 23 June and took part in the heavy strikes against the North Korean power complex (24-25 June) and the amphib ious feint at Kojo (12-16 October). She continued operations against North Korean targets until 18 December 1952 and then steamed to San Francisco where she arrived 8 January 1953. Her classification was changed from CV-31 to CVA-31 1 October 1952.


Bon Homme Richard went out of commission 15 May 1953 preparatory to modernization. When recommissioned 6 September 1955 she had an angled and strengthened flight deck enclosed bow enlarged elevators and steam catapults. She completed her con version period 31 October 1955 and commenced sea trials in the Alameda-San Diego area.

Bon Homme Richard has since continued to serve with the Pacific Fleet and has made two tours of the Far East.


Bon Homme Richard received one battle star for her World War II service and five battle stars for participation in the Korean conflict.