For RATING SHIRTS - Click on your Rating Abbreviation below:
Click on your Rating abbreviation above: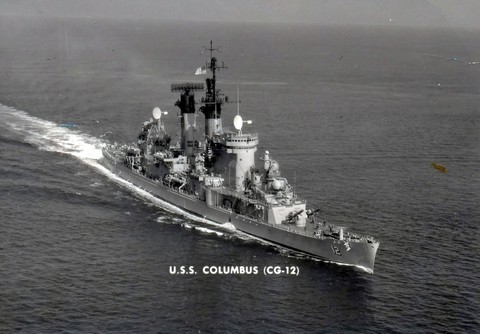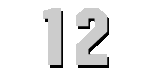 U.S.S. COLUMBUS
(CG-12)

THE TALL LADY
Click to view crew list
The USS COLUMBUS (CG-12), a Baltimore class cruiser, was commissioned on 8 JUN 1945, as CA-74. Commissioned too late for combat in world War II, performed post war occupation duty in the Far East, then returned to the U.S. in April 1946. After a 1947 Far East deployment and subsequent overhaul, COLUMBUS joined the Atlantic Fleet. From 1948 thru 1955 COLUMBUS regularly deployed to the "MED". In 1956 she returned to the Pacific Fleet and made three "West Pacs" before beginning the conversion to a guided missile cruiser in May 1959. De-designated GC-12, CULUMBUS was recommissioned on 1 DEC 1962 and continued with the Pacific Fleet. COLUMBUS returned to the Atlantic Fleet, where she finished her service career, in late 1965. Over the next eight years COLUMBUS deployed to the Mediterranean seven times. USS COLUMBUS served her country, as CG-12, for 12 years, 1 month and 30 days, until decommissioned on 31 JAN 1975. The hulk of USS COLUMBUS sold was scrapped by Union Minerals & Alloys Corp. in 1977-78.

The USS COLUMBUS (CG-12) deployment history and significant events of her service career follow:
CG-12 Deployments - Major Events
Add a CG-12 Shellback Initiation
Add a CG-12 Deployment - Major Event
Month
Year
to
Month
Year
Deployment / Event
JUN
1943
-
Keel Date: 28 JUN 1943
NOV
1944
-
Launch Date: 30 NOV 1944
JUN
1945
-
Commissioned: 8 JUN 1945
JAN
1950
-
JAN
1952
korean war
DEC
1962
-
DEC
1962
Commisioning
JAN
1964
-
JAN
1965
West Pac-Viet Nam
MAY
1964
-
NOV
1964
West Pac-Viet Nam
JUL
1964
-
Shellback Initiation - 22 JUL 1964 - Pacific Ocean
AUG
1964
-
FEB
1965
West Pac-Viet Nam
AUG
1964
-
FEB
1965
West Pac
AUG
1964
-
Shellback Initiation - 18 AUG 1964 - Pacific Ocean
AUG
1964
-
FEB
1965
West Pac-Viet Nam
SEP
1964
-
FEB
1965
West Pac
DEC
1964
-
JAN
1965
shellback initation
FEB
1965
-
Shellback Initiation - 18 FEB 1965 - Atlantic Ocean
MAY
1965
-
Shellback Initiation - 22 MAY 1965 - Atlantic Ocean
MAY
1965
-
Shellback Initiation - 22 MAY 1965 - Atlantic Ocean
JUN
1965
-
AUG
1965
Midshipman Cruise - Annapolis San Juan Port Everglades Boston
NOV
1965
-
NOV
1965
West Pac-Viet Nam
DEC
1965
-
MAR
1966
transfered to atlantic fleet
JAN
1966
-
MAR
1966
1st fleet to 2nd fleet
SEP
1966
-
MAY
1967
Mediterranean
JAN
1968
-
JUL
1968
Mediterranean
FEB
1968
-
JUL
1968
Mediterranean
NOV
1968
-
MAY
1969
Mediterranean
FEB
1969
-
Shellback Initiation - 8 FEB 1969 - Atlantic Ocean
OCT
1969
-
MAR
1970
Mediterranean
JAN
1970
-
JUN
1973
Mediterranean
SEP
1970
-
MAR
1971
Mediterranean
MAY
1972
-
OCT
1972
Mediterranean
OCT
1973
-
MAY
1974
Mediterranean
OCT
1973
-
MAY
1974
Mediterranean
JAN
1975
-
Decommissioned: 31 JAN 1975
CG-12 General Specifications
Complement: 1906 Officers and Enlisted
Displacement: 13600 tons
Length: 674 feet 11 inches
Beam: 70 feet 10 inches
Draft: 26 feet 5 in
Flank Speed: 32 Knots
USS COLUMBUS (CG-12)
The third Columbus (CA-74) was launched 30 November 1944 by Bethlehem Steel Co., Quincy, Mass.; sponsored by Mrs. Edward G. Meyers, mother of two sons killed in the war; and commissioned at Boston on 8 June 1945, Captain Allen Hobbs in command.


Following a shakedown cruise to Guantanamo Bay, Cuba, in September, and a repair availability at Boston in November, the cruiser sailed for the Pacific and passed through the Panama Canal on 10 December. After brief stops at Pearl Harbor and Buckner Bay, Okinawa, Columbus reached Tsingtao, China, on 13 January 1946 for occupation duty. Serving as flagship for Commander, Cruiser Division One, the warship visited Shanghai, China, as well as Sasebo and Yokosuka, Japan, during the hectic spring months. While in Japanese waters, the cruiser participated in the 1 April Operation "Road's End," the sinking of twenty-four Japanese submarines captured at the end of the war, including the submarine I-58, credited with sinking the American cruiser Indianapolis (CA-*) in the last days of the war. Sailing for home the next day, Columbus remained in west coast waters through the end of the year. The warship made a second Far Eastern cruise from 15 January to 12 June 1947, again serving as cruiser flagship in Chinese waters.


After west coast operations and an overhaul at Puget Sound Naval Shipyard, Columbus cleared Bremerton 12 April 1948 to join the Atlantic Fleet, arriving at Norfolk, Va., 19 May. Columbus made two cruises as flagship of Commander-in-Chief, Naval Forces Eastern Atlantic and Mediterranean, from 13 September 1948 to 15 December 1949 and from 12 June 1950 to 5 October 1951, and one as flagship of Supreme Allied Commander, Atlantic, during parts of NATO Operation "Mainbrace" from 25 August to 29 September 1952. She cruised in the Mediterranean from October 1952 through January 1953, serving part of that time as flagship of the 6th Fleet. Now flagship of Cruiser Division 6, she returned to the Mediterranean from September 1954 to January 1955. Between deployments, Columbus received necessary overhauls and carried out training operations along the east coast and in the Caribbean.


Reassigned to the Pacific Fleet, Columbus cleared Boston 8 November 1955 for Long Beach, Calif., where she arrived 2 December. Just a month later, on 5 January 1956, she sailed for Yokosuka, Japan, and operated with the 7th Fleet until she returned to Long Beach 8 July. Columbus made two more cruises to the Far East in 1957 and 1958. During the late summer of 1958, her presence was a reminder of American strength and interest as she patrolled the Taiwan Straits during the crisis brought on by the renewed shelling of the offshore islands by the Chinese Communists. On 8 May 1959, Columbus went out of commission at Puget Sound Naval Shipyard to begin her conversion to a guided missile cruiser, and she was reclassified CG-12, 30 September 1959. Recommissioned 1 December 1962, Columbus served in the Atlantic Fleet for the next fourteen years, decommissioning at Portsmouth, Virginia, on 31 January 1975. Struck from the Navy list on 9 August 1976, the hulk was sold for scrap to Consolidated Andy Inc., Brownsville, Texas, on 3 October 1977.


[Note: The above USS COLUMBUS (CG-12) history may, or may not, contain text provided by crew members of the USS COLUMBUS (CG-12), or by other non-crew members, and text from the Dictionary of American Naval Fighting Ships]