For RATING SHIRTS - Click on your Rating Abbreviation below: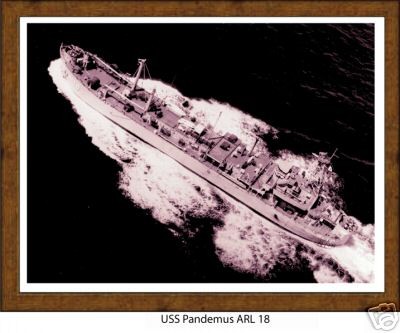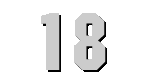 U.S.S. PANDEMUS
(ARL-18)

SERVICE TO THE MINEFORCE
Click to view crew list
USS PANDEMUS (ARL-18) - an Achelous class repair ship
In Commission 1945 to 1946
ARL-18 Deployments - Major Events
Add a ARL-18 Shellback Initiation
Add a ARL-18 Deployment - Major Event
Month
Year
to
Month
Year
Deployment / Event
JUL
1944
-
Keel Date: 20 JUL 1944
at Chicago Bridge & Iron Company
OCT
1944
-
Launch Date: 10 OCT 1944
FEB
1945
-
Commissioned: 23 FEB 1945
DEC
1951
-
DEC
1951
Re-Commisioned
SEP
1962
-
OCT
1962
Cuban Missle Blockade
OCT
1962
-
OCT
1962
Cuban Missle Blockade
SEP
1968
-
Decommissioned: 30 SEP 1968
ARL-18 General Specifications
Class: Achelous class repair ship
Named for: Pandemus
Complement: 255 Officers and Enlisted
Displacement: 2220 tons
Length: 328 feet
Beam: 50 feet
Flank Speed: 12 knots
Final Disposition: Sunk as a target 1969
USS PANDEMUS (ARL-18)
Pandemus (ARL-18) was laid down as LST-660 20 July 1944 by the Chicago Bridge and Iron Co. Seneca Ill. reclassified ARL 18 on 14 August 1944; named Pandemus 11 September 1944; launched 10 October 1944; sponsored by Mrs. Laura Sauter Gasperik; placed in reduced commission 21 October 1944 for transit to New Orleans decommissioned 3 November 1944 for conversion to a landing craft repair ship by Todd Johnson Dry Dock Inc. and commissioned in full 23 February 1945 Lt. Comdr. Howard B. Shaw Jr. USNR in command.
Pandemus departed New Orleans 12 March 1945 for shakedown out of Panama City Fla. and returned for alterations 26 March. On 4 April she stood down the Mississippi River bound by way of the Panama Canal the Hawaiian and Marshall Islands the Mariana Islands and Ulithi to Hagushi anchorage Okinawa. There she tended and repaired infantry landing craft.
Pandemus touched at Guam and Saipan on her way to San Pedro Bay Leyte Philippine Islands. She serviced landing and small craft in that area and then at Okinawa and Shanghai China. She put to sea from Shanghai 21 December 1945 and steamed by way of Pearl Harbor to San Pedro Calif. arriving 5 February 1946. Six days later she was on her way to Mobile Ala. where she arrived 3 March. She shifted to Algiers La. 4 July and decommissioned there 23 September 1946.
Pandemus recommissioned at Green Cove Springs Fla. 14 December 1951 Lt. John H. Thomas in command; fitted out at Merrill Stevens Shipyard Jacksonville visited Norfolk 23 January 1952 and arrived at the U.S. Naval Minecraft Base Charleston her home port 30 March and began 16 years of service supporting minesweeping operations along the Atlantic Coast from Newport R.I. to Key West Fla. in the Caribbean and in the Gulf of Mexico.
She decommissioned 30 September 1968 and was struck from the Navy List 1 October 1968. She was sunk as a target in late 1969.
Pandemus received one battle star for World War II service.


[Note: The above USS PANDEMUS (ARL-18) history may or may not contain text provided by crew members of the USS PANDEMUS (ARL-18) or by other non-crew members and text from the Dictionary of American Naval Fighting Ships]