Click on your Rating abbreviation above: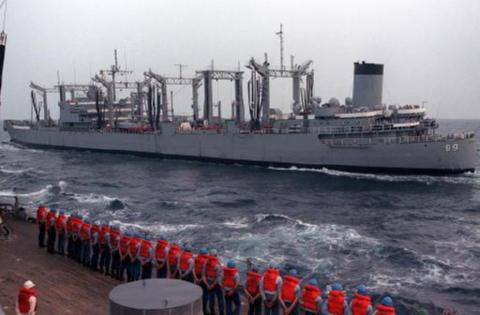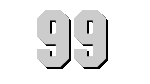 U.S.S. CANISTEO
(AO-99)

IF FREEDOM WERE EASY WE WOULDNT BE HERE
Click to view crew list
The USS CANISTEO (AO-99), a Cimarron-class oiler, was commissioned on 3 DEC 1945. USS CANISTEO missed World War II serrvice by month, but "carried the goods" for the US Navy for over forty years. The first twenty years of her career was spent supporting the fleet was needed. Ranging from the East Coast of the United States, CANISTEO traveled the North Atlantic, North Sea, Mediterranean and Indian Ocean as ordered. In 1966 CANISTEO underwent the addition of a 60 foot section to her hull that added 30,000 barrels of cargo oil and 600 tons of cargo ammunition to her capacity. The "Jumboization" extended her capacity, range and useful service life. She went on to serve the Atlantic fleet for an additional twenty tree years in the same deployment cycles. USS CANISTEO served her country for 43 years, 9 months and 29 days, until decommissioned on 2 OCT 1989. CANISTEO was laid up at the NISMF at Fort Eustis, VA at first , then sold to UK ABLE fro scrapping in 2003. The hulk was not dismantled until 2008 due to environmental concerns.

The USS CANISTEO (AO-99) deployment history and significant events of her service career follow:
AO-99 Deployments - Major Events
Add a AO-99 Shellback Initiation
Add a AO-99 Deployment - Major Event
Month
Year
to
Month
Year
Deployment / Event
NOV
1944
Keel Date: 11 NOV 1944
JUL
1945
Launch Date: 6 JUL 1945
DEC
1945
Commissioned: 3 DEC 1945
NOV
1953
-
MAR
1954
Mediterranean
JAN
1961
-
Shellback Initiation - 31 JAN 1961 - Atlantic Ocean
JAN
1961
-
MAY
1961
Crossed equator in the persuit of pirate ship s.s. santa maria
SEP
1961
-
APR
1962
Mediterranean
OCT
1962
-
NOV
1962
Cuban Missle Blockade
OCT
1962
-
OCT
1962
Cuban Missle Blockade
APR
1965
-
JUN
1966
dominican republic
OCT
1965
-
OCT
1965
Blue Nose - Artic Circle
NOV
1965
-
DEC
1965
Capetown South Africa Cruise
NOV
1965
-
Shellback Initiation - 18 NOV 1965 - Atlantic Ocean
NOV
1965
-
NOV
1965
Shellback Initiation 11-18-1965
MAY
1966
-
SEP
1966
North Atlantic
NOV
1966
-
NOV
1966
GEMINI XII Recovery assistance
JUN
1969
-
Shellback Initiation - 15 JUN 1969 - Pacific Ocean
OCT
1969
-
APR
1970
Mediterranean
NOV
1969
-
MAY
1970
Mediterranean
APR
1970
-
JAN
1971
Mediterranean
JUN
1970
-
JUL
1970
Panama Canal
JUN
1970
-
Shellback Initiation - 20 JUN 1970 - Pacific Ocean
APR
1971
-
NOV
1971
Mediterranean
SEP
1972
-
FEB
1973
Mediterranean
JAN
1974
-
JUN
1974
Mediterranean
MAR
1976
-
SEP
1976
Mediterranean
OCT
1977
-
DEC
1977
North Atlantic
JUL
1978
-
FEB
1979
Mediterranean
JAN
1979
-
Shellback Initiation - 30 JAN 1979 - Atlantic Ocean
AUG
1979
-
JAN
1980
Regular Overhaul
DEC
1981
-
APR
1982
Mediterranean
JAN
1982
-
JAN
1983
Caribbean
JAN
1982
-
Shellback Initiation - 19 JAN 1982 - Atlantic Ocean
JAN
1983
-
APR
1983
North Atlantic
AUG
1985
-
JAN
1986
Law Enforcement Operations (LEO)
OCT
1989
Decommissioned: 2 OCT 1989
AO-99 General Specifications
Named for: The Canisteo River in New York
Complement: 22 Officers and 362 Enlisted
Displacement: 7236 tons
Length: 553 feet
Beam: 75 feet
Draft: 32 feet
Final Disposition: Sold for scrapping
USS CANISTEO (AO-99)
Canisteo (AO-99) was launched 6 July 1945 by Bethlehem-Sparrows Point Shipyard Inc. Sparrows Point Md. under a Maritime Commission contract; sponsored by Mrs. J. N. Chambers; and commissioned 3 December 1945 Lieutenant Commander E. L. Denton USNR in command.
Canisteo cleared Norfolk 4 February 1946 for Melville R.I. where she loaded diesel oil for naval units taking part in the occupation of Germany. Returning from Bremerhaven and Farge Germany she carried out training operations in the Caribbean and then sailed to Iceland and Greenland returning to New York City 27 May.
The tanker sailed south from Norfolk 27 November 1946 as a unit of Operation "Highjump " the largest Antarctic expedition to that time. Steaming through the Panama Canal to the Antarctic Canisteo reached Scott and Peter Islands and through her logistic support played a critical role in this historic exploratory and scientific project carrying on the Navy's traditional role in expanding man's frontiers. Canisteo returned to Norfolk 23 April 1947 after calling at Rio de Janeiro and Caribbean ports.
Between 4 June 1947 and 23 October 1948 Canisteo served four tours of duty supporting the 6th Fleet by carrying oil from Bahrein to the Mediterranean. The winter and spring of 1948-1949 found Canisteo operating on fueling duty from Norfolk to Caribbean ports; Argentia Newfoundland; and Grondal Greenland. A pattern of alternating exercises in the Caribbean with overhauls and tours of duty in the Mediterranean in the following years was highlighted by her fueling in support of many fleet exercises. She played a part in augmenting the growing strength of the North Atlantic Treaty Organization through Operation "Mainbrace" (26 August-11 October 1952) and in combined operations with Canadian forces (16-20 September 1956). Active with the Fleet Canisteo continued to operate out of Norfolk through 1960 participating in fleet and NATO exercises.


[Note: The above USS CANISTEO (AO-99) history may or may not contain text provided by crew members of the USS CANISTEO (AO-99) or by other non-crew members and text from the Dictionary of American Naval Fighting Ships]